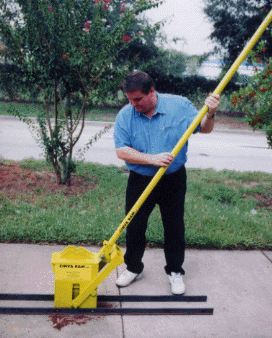 Earth Block Construction
Build your home out of dirt
with Compressed Earth Block (C.E.B.) Construction
Can you build a house dirt cheap? You bet. There are a variety of techniques to build your own home from the soil at hand, including cob construction, adobe, rammed earth, and compressed earth block (CEB) construction. In CEB construction, for example, soil can be compressed into earth bricks with the aid of a Cinva Ram.

The photo here is of Michael Gross with Terra Block Inc. in Orlando, Florida, with a Cinva Ram he built from the Cinva Ram Plan Set.
Compressed Earth Block Homes in Montana
Crow-made homes a reality for reservation's residents
From the Billings Gazette, 10/25/2011
CROW AGENCY - Aaron and Martha Alden stood in the kitchen of their new home on Wednesday morning, happy to be there.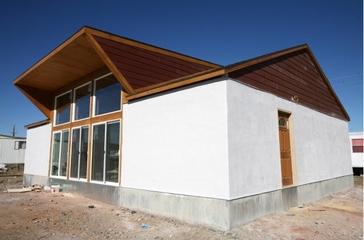 Light poured through the south-facing windows into the open, high-ceilinged room that contains the kitchen, dining and sitting areas. A doorway off the main area leads to two bedrooms and a bathroom.

The couple, both enrolled members of the Crow Tribe, moved into the 900-square-foot house on Oct. 13. The blue-and-black house sits on a hillside on the west side of Crow Agency.

"It feels great, and we were fortunate to have a home made by our own people with our own minerals," Martha said. "I'd like to thank God, our creator, and the people who helped build this house."

The energy-efficient home with a sloping roof is the first one completed in the Good Earth Lodges program. The compressed-earth blocks are made from sand and clay mined on the Crow Reservation.

The blocks are produced in a factory on the reservation, one mile south of Hardin, and the home was built by a Crow work crew.

Read more:
Billings Gazette | Good Earth Lodges website
| | |
| --- | --- |
| Good Earth Lodges: Crow Indian C.E.B. Plant I | Good Earth Lodges: Crow Indian C.E.B. Plant II: Compression Test |
Please visit AECT to learn about equipment for compressed earth block and adobe construction.
---
Cinva Ram Compressed Earth Block Press Plans
by Charmaine Taylor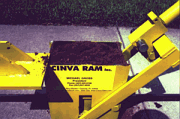 Charmaine Taylor's Cinva Ram Plan Set is a detailed set of plans for making your own compressed earth block (CEB) press ...aka the Cinva Ram. The photo above is a Cinva Ram manual press made from these plans by Mike Gross, President of Terra-Block Inc., Orlando, Florida.

This press was developed and engineered in third world countries for manual use. Welding of parts is recommended as part of assembly, and mechanical expertise is necessary to build these block presses. (Be sure to read the Windward Sustainable Community Blog Building the Rammed Earth Brick Machine from Charmaine Taylor's plan set.)

The Cinva Ram Plan Set contains 30+ printed pages, including 11 detailed pages of plans on heavy cardstock.The plans are sold "as is," with dimensions shown in millimeters, not inches. You will need a CAD or other program if you want to convert millimeters to inches. No lengthy assembly description is given. But there is enough obsevable data from others who have built these manual rams to guide you.

Also included in the package is the Adobe & Cinva Ram Resource Guide on CD with approximately 3,500+ pages of earth construction related information, plus FULL BOOKS on CEB block press use, brick making, resources, links, and PDF articles on all aspects of natural and alternative construction. This CD includes information and articles about making and building with adobes and earth blocks. Some materials are from the 1930s and 40s, including photos of a compressed earth block ram and its operation to make soil blocks. Information describes soil testing, mixing, additives, curing, plus adobe construction codes, and building with soil blocks.

Here is a sample of the documents included on the Adobe & Cinva Resource CD:
Compressed Earth Block (Mardini)
Compressed Earth Block (Hydraform)
Compressed Earth Block (Balram)
Earth Block Technology For The World
VITA-CINVA-Ram Block Press
Understanding Stabilized Earth Block Construction using the Cinva Ram
UNDERSTANDING ADOBE-VITA
This Brickmaking Machine Makes Nothing But Money
The compressed earth block-Basin 1991
Terrablock-CEBs
SUPPLEMENT 5-PRESSED EARTH BLOCKS
Stabilizers and Mortars for CEBs
Stabilized Earth Construction
SPORE-1996-Earth fights back
Soils for Rammed Earth, Caliche Block
Soil Preparation Equipment
AECT BLOCK PRESS
Aureka Earth Brick Presses
Compressed Earth Blocks-Wayne nelson
Compressed Earth Block (CEB) Machines
CEB Vol 2 BOOK.pdf -A COMPLETE BOOK
CEB Vol 1 BOOK.pdf -A COMPLETE BOOK
CEB vs. Adobe blocks
Building materials- earth fights back PDF
BASIN 1991-The compressed earth block PDF
Basics_of_CEB
Making Building Blocks withCinvaRam-VITA
PACKER PRESS-CEB
NM Code-earth-adobe PDF
Manual Minke PDF - 52 PAGE BOOKLET
The Cinva Ram Planset comes in a portfolio that includes the plans, CD, and related literature. Please order directly from Charmaine Taylor.
---
The following question and reply are posted at The Mother Earth News website:

Question: My wife and I are very interested in using compressed earth block (CEB) building techniques for the homestead we are planning in northeast Georgia. I know there are currently several manufacturers of CEB making machines, but wondered if the original CINVA Ram was still available. Also, have there been any new developments in sealing CEB walls against moisture? - D G, Florida

Answer: The original CINVA ram was engineered by Raul Ramirez of the Inter-American Housing Center (Spanish acronym: CINVA) in Bogota, Columbia, in 1952. The name "CINVA" has come to stand for most lever action presses that make compressed earth blocks (CEBs) one at a time, whether of the original Ramirez design or something similar.

One of the design features of the original CINVA ram was that it could be fabricated just about anywhere a welder and plate steel are available. Local fabrication, compact size, and manual operation have made it ideal for international development projects and owner-builders such as you.

So, where will you find one today? There are probably a few companies still making them, but the only one I know of in the United States is Fernco Metals in New Mexico (They bought the plans from DirtCheapBuilder.com.)

You could also fabricate your own by purchasing plans from www.DirtCheapBuilder.com. (You are here!) Internationally, the Auram press (made in India) is an excellent manual press.

As for sealing CEB walls against moisture, there are not any new developments that I am aware of. Most of the tried and true methods, some of which are centuries if not millennia old, such as lime plasters, have been working just fine. It's also important to distinguish what you mean by "sealing." Some people may refer to the application of anything from plaster to bees wax as "sealing." I would consider a sealer(*) as anything that protects the blocks against liquid water but allows water vapor to pass. A linseed and bees wax mix would be an example. You can make it yourself or purchase it from several companies that recommend it for sealing wood; however, some brands are much better then others. Land Ark is one company I have used successfully in the past. Standard masonry sealers will also work. When looking for a sealer, choose one that is non-toxic, biodegradable and vapor permeable. - Dan Johnson, Midwest Earth Builders

Note from Charmaine: Thanks Dan. Builders can also purchase a pre-made manual ram (for under $2,000) or a hydraulic version from Fernco Metals. For bigger operations, see the many-blocks-per-minute models at Terra-Block Inc. or see Adobe Builder magazine.

(*) Sealers- there are sealers like waterglass (Sodium Silicate) available by the gallon at Chemistry.com and other garden/hardware shops, and modern engineered sealers for natural stone and granite which have been tried, but do not use "cement paint" or any cement based plaster over natural clay adobes.
See also
Earthbag Construction
Cob Construction
Ceramic Houses

See also: Living Homes: Stone Masonry, Log, and Strawbale Construction.