Earthbag Building
Build a Home with Bags of Earth
Sometimes new technologies facilitate very simple or very old technologies. In the case of earthbag construction, the modern polypropelene bag makes it feasible for even the novice to build a low-cost, enduring house from bags of dirt.

The cool thing about earthbag construction is that it is such an adaptive material, enabling the builder to create any shape - from conventional straight-walled houses to circular domes, to freeform walls.

Earthbag construction is ideal for warmer climates, with lots of thermal mass to moderate house temperatures between day and night. I'm not sure, however, how energy-efficient uninsulated earthbag construction would be in northern climates, where heat-loss becomes a major concern. I would love to experiment with this method of construction on an out-building some day!
---
Earthbag Building Basics
| | |
| --- | --- |
| Overview of earthbag construction. | Time-lapse of building a straight-walled earthbag house. |
Earthbag Building Books
---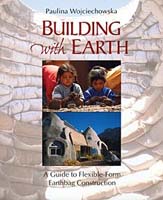 Building with Earth
A Guide to Flexible-Form Earthbag Construction
by Paulina Wojciechowska
While developers around the globe are looking toward the industrialized United States in hopes of promoting American-style tract houses, shopping malls, and skyscrapers, our country's pioneering natural builders are looking in the other direction -- hearkening back to ancient traditions to create beautiful, affordable, and resilient dwellings of earth. Building with Earth is the first comprehensive guide to describe the re-emergence of earthen architecture in North America, where adventurous builders are combining timeless forms such as arches, vaults, and domes with modern materials and techniques.

Using cheap recycled or salvaged polypropylene tubing or textile grain sacks, even relatively inexperienced builders can construct an essentially tree-free building, from foundation to curved roof. With ordinary barbed wire between courses for tensile strength, and with beautifully textured earth- and lime-based finish plasters for weather protection, "earthbag" buildings are being used for retreats, studios, and full-time homes in a wide variety of climates and conditions.

This book will tell and show readers how to plan and build their own earthen "Superadobe" building. This book takes you back to the future: In rediscovering the origins of traditional architecture, readers are introduced to cutting-edge earth-based techniques now being researched for their potential in building durable dwellings for residence on the moon!

Paulina Wojciechowska was born in Poland and spent her formative years in Afghanistan and India, fascinated by the region's age-old architecture created by artisan builders. Eventually she entered architecture school at Kingston University in Great Britain. After working in London architectural firms, she traveled to the United States and Mexico to study and work with the "natural," "alternative" and indigenous building methods and low-cost housing. She apprenticed with master "Superadobe" builder Nader Kahlili at the California Institute of Earth Architecture (Cal-Earth) as well as with straw-bale building pioneers Athena and Bill Steen at the Canelo Project.
---
Earthbag Building
The Tools, Tricks and Techniques
by Kaki Hunter and Donald Kiffmeyer
With over seventy percent of Americans unable to afford a code-enforced, contractor-built home, there has been widespread interest in recent years in using natural and alternative materials for construction. Straw, cob, and earth can all be used for building homes and other buildings that are inexpensive, and that rely largely on labor, rather than high-cost, and often environmentally-damaging materials imported from from far away.

Earthbag Building is a comprehensive guide to all the tools, tricks, and techniques for building with bags filled with earth-- or earthbags. Acknowledged pioneers and experts in the field, the authors have prefected their "flexible form rammed earth technique" -- a reliable method for constructing homes, out-buildings, garden walls and much more. This enduring, tree free architecture can also be used to create arched and domed structures of great beauty--at home in any region, and in developing countries, or in emergency relief work.

This profusely illustrated guide first discusses the many merits of earthbag construction, and then leads the reader through the key elements of an earthbag building:


special design considerations
electrical, plumbing, and shelving
roofs, arches, and domes
foundations, walls, and floors
lintels, windows, and door installations
exterior and interior plasters
With dedicated sections on costs, making your own specialized tools, and building code considerations, as well as a complete resources guide, Earthbag Building is a definitive guide to this uniquely pleasing construction style.

Kaki Hunter and Donald Kiffmeyer have been involved in the natural building movement for the last twelve years, specializing in affordable, low-tech, low-impact building methods that are as natural as possible. They developed the "flexible form rammed earth technique" of building affordably with earthbags and have taught the subject and contributed their expertise to several books and journals on natural building. ISBN: 0-86571-507-6. 257 Pages. 2004.
---
Basic Earthbag Building DVD
Produced by Dr. Owen Geiger
The first part of Basic Earthbag Building provides clear, simple explanations of each step of construction, and includes full coverage of the tools and supplies needed to complete any sized project. The second part documents the construction of a cool pantry, which uses the same basic steps as most any other earthbag structure. Watching the construction of an actual project is key to understanding the whole process, and will enable you to see how all the steps and parts go together. As a bonus, there are some extra scenes that include Building an Earthbag Dome, an animated Enviro Dome Fly-through and a tour of a Finished Earthbag Roundhouse. 198 minutes. Format: NTSC. All Regions. 2011.

See also: Living Homes: Stone Masonry, Log, and Strawbale Construction.