The Cob Builders Handbook
You Can Hand-Sculpt Your Own Home
by Becky Bee
Review by Phil Hacker and Thomas J. Elpel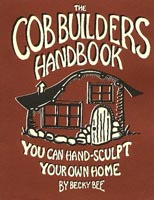 If you want to break free from rigid-square buildings to create a more fluid, rounded, organic home, then The Cob Builder's Handbook is the book for you. Cob is the process of mixing clay-bearing earth with sand, straw and water to make to make a thick mud that you can hand-sculpt into a house. Starting on a foundation of stone, you make thick, straw-reinforced clay walls, kind of like adobe, but less formal and more creative.

With an informal tone and a fun-loving attitude, Becky Bee presents building a house with cob as a natural artistic expression that provides shelter to connect you with the earth. Easier to read and more familiar than most house-building books, the Cob Builder's Handbook can help make your dreams come true.

While cob is as old as dirt (ha!), building codes in America haven't quite caught up (as is the case with many natural building materials). It isn't the sort of thing you would build on a suburban lot, or any place where building codes are enforced. It might be described as an anti-establishment type of construction--ideal for those who are exploring the frontiers of sustainable living: generating their own electricity, growing their own food, using composting toilets, and recycling household water to the garden. In a lifestyle that is completely connected to the earth, a cob home seems to grow right from the landscape like part of your garden.

While natural builders are generally advocates of lessening our footprint on the land, Becky Bee goes farther than most, providing alternative methods to two of the most expensive, most energy and resource intensive parts of the home: the foundation and the roof, showing how to limit or eliminate the use of cement or wood.

Intriguing, creative, inspiring and above all, fun; Becky Bee's experiences, along with her personal touch, make this a handbook any novice builder could use from start to finish.
---
The Hand-Sculpted House
A Practical and Philosophical Guide to Building a Cob Cottage
by Ianto Evans, Michael G. Smith, and Linda Smiley
Are you ready for the Cob Cottage? This is a building method so old and so simple that it has been all but forgotten in the rush to synthetics. A cob cottage, however, might be the ultimate expression of ecological design, a structure so attuned to its surroundings that its creators refer to it as "an ecstatic house."


Written with three distinct voices, The Hand-Sculpted House is a life changing text. It not only provides the reader with a practical knowledge base for building their own cob cottage, but underscores a mentality that is congruent with self-empowerment and global change. Think of it as a cob-oriented guide to changing the world. Personal expressions of comfort and shelter, rather than generic McMansions, will manifest themselves through the skills outlined in this book. Cob becomes more than just a building material, but a philosophy that can foster a lifestyle of perpetual ecology.

Abstractly, the book speaks of desires and release from social constructs. Practically, it speaks of barefoot mud dancing, microclimates, and the tools (both internal and external) that one needs to complete a home made of cob. Outright against using machines and power tools, the book's natural demeanor and (literally) well-grounded information set the stage for a housing medium that is as nearly abundant as the earth itself. After reading such a book, you will know that quality shelters are not just built by professionals, but that anyone can be capable of creating a living, functional and earth-friendly architecture--a home that is more personal than any contractor-built house.

The authors build a house the way others create a natural garden. They use the oldest, most available materials imaginable -- earth, clay, sand, straw, and water -- and blend them to redefine the future (and past) of building. Cob (the word comes from an Old English root, meaning "lump") is a mixture of non-toxic, recyclable, and often free materials. Building with cob requires no forms, no cement, and no machinery of any kind. Builders actually sculpt their structures by hand.

Building with earth is nothing new to America; the oldest structures on the continent were built with adobe bricks. Adobe, however, has been geographically limited to the Southwest. The limits of cob are defined only by the builder's imagination. Cob offers answers regarding our role in Nature, family and society, about why we feel the ways that we do, about what's missing in our lives.

Cob has been a traditional building process for millennia in Europe, even in rainy and windy climates like the British Isles, where many cob buildings still serve as family homes after hundreds of years. The technique is newly arrived to the Americas, and, as with so many social trends, the early adopters are in the Pacific Northwest. Cob houses (or cottages, since they are always efficiently small by American construction standards) are not only compatible with their surroundings, they ARE their surroundings, literally rising up from the earth. They are full of light, energy-efficient, and cozy, with curved walls and built-in, whimsical touches.

The Hand-Sculpted House is theoretical and philosophical, but intensely practical as well. You will get all the how-to information to undertake a cob building project. As the modern world rediscovers the importance of living in sustainable harmony with the environment, this book is a bible of radical simplicity.
---
You Can Make The Best Hot Tub Ever
Relax! Warm Your Bones! Get to Know the Sky
by Becky Bee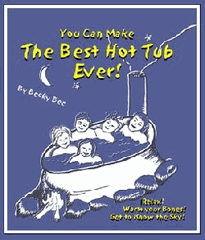 Please Note: The tub is NOT made of cob or plain earth, the tub is metal, typically an old bathtub. Only the surround is cob, which transforms the metal tub into a work of art with enough thermal mass to keep the water hot long after the fire is out.

This book teaches you how to use metal forms (tubs, troughs and more, coated with cob and sculpted), as an outdoor hot tub and bath. It is fired with wood heat, and provides a simple alternative to expensive electrical-run commercial systems. Kinda hippy, kinda funky, but they can be beautiful too! This is a clever How-To solution in an economic way.

Unless you have had an outdoor wood-fired bath, there is no way your imagination can see how absolutely divine it is! It is more like a temple than a bath, bringing together the elements in a light natural way.

Armed with this booklet and with a little help from friends, you can make your tub and have a hot bath all on the same day!! Your new tub will be a great conversation piece and a fun way to get to know your friends!! And it is guaranteed to inspire you to spend quality time outdoors with Mother Nature, relax your muscles and stay clean.

You can also extrapolate from the information in this book to cover an old or low-cost metal wood burning stove with cob. (Many stoves are cheaply made, and crack or leak quickly and don't draw properly, but when cobbed over they can provide a nice heating source, making the best of a low-cost resource.)

54 pages, b&w photos and line drawings teach you what you need to know.
---
Dig Your Hands in the Dirt
A Manual for Making Art out of Earth
by Kiko Denzer
This is a great little book to teach you about cob and creating with cob. Everything you need to know to get started!

Mud is fun! Also durable, varied, easy, and (dirt!) cheap. It has been used for millennia to make beautiful homes, temples, and decorative art - in every way an ideal material for this serious-but-fun book that directs you to "the dirt beneath your feet" as a perfect source for creating culture and beauty.

In a compact and appealing format, Dig Your Hands in the Dirtcombines inspiring photos (the projects are located everywhere from Washington DC, to Chicago, Oregon, Mexico, and even Berlin) with simple how-to and step-by-step narrative.

Start with wren-sized bird-houses, and then go on to make model villages, sculpted benches, playground structures, stunning murals for any wall, or a monumental labyrinth or sundial!

One story highlights a marvelous effort in Portland Oregon where neighbors are using earthen building as part of a strategy for building community and communal spaces.

As a practical manual and resource, it covers all the bases: drawing and design; locating and mixing mud, sand, and other materials; architectural and philosophical perspectives; working collaboratively; and resources. The book includes hundreds of photos, including 32 pages of color, illustrating the procedures and inspiration of creating art from dirt. Paperback, 5-1/2 x 9 inches.
---
Cob Building Project
Building A House: The Adventures of Shaye and Tom
-Planning our cob cottage and building the drain/foundations/stem wall
-Learning how to make and build with cob
-Installing windows and doors into our cob building
-Beautiful built in windows, installed into the cob walls
-Making the most of Toms step moms love of bubbly - Bottle windows in the cob wall
-Cob Walls Finished! "Henry" is looking B-e-a-u-t-i-f-u-l!!
-Making a start on our Earthen Floors
-Lime Plastering On Our Cob Cottage

See also: Living Homes: Stone Masonry, Log, and Strawbale Construction.