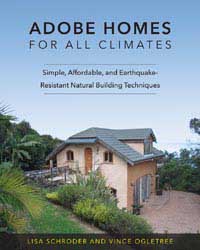 Adobe Homes for All Climates
Simple, Affordable, and Earthquake-Resistant Natural Building Techniques
by Lisa Schroder and Vince Ogletree
The lay-up of adobe bricks is an easy, forgiving way to achieve a solid masonry-wall system. In Adobe Homes for All Climates, two veteran adobe builders show how modern spins on an old art can make adobe practical even for cold, wet, or earthquake-prone areas.. With its efficient use of energy, natural resources for construction, and minimal effort for long-term maintenance, the humble adobe brick is an ideal option for constructing eco-friendly structures throughout the world.

This book is ideal both for first-time do-it-yourselfers and for experienced adobe builders seeking to improve their craft. Drawing on the experience of more than fifty major adobe projects since 1993, Adobe Homes for All Climates describes Adobe Building Systems' patented reinforcement and scaffolding systems, showing readers how to construct adobe homes more easily and safely, and with superior strength, durability, structural integrity, and aesthetic appeal, as compared to earthen homes of the past.

All aspects of adobe construction are covered, including making and laying adobe bricks, installing lintels and arches, conduits and pipes, doors and windows, top plates and bondbeams, ideal wall dimensions, adobe finishes, and other adobe construction components, such as the inexpensive use of scaffolding. These methods will produce a premium product that will meet and often exceed inspection standards.

Equipped with this manual, you will be able to obtain a building permit, make adobe bricks swiftly, and confidently lay them up. You will be able to beautifully finish your adobe walls with earth plasters creating stunning colors and outstanding light effects and create a beautiful, energy-efficient home that will last for generations to come. Paperback. 205 pages. Chelsea Green Publishing. 2010. ISBN: 978-1-60358-257-5.
---
Building with Awareness
The Construction of a Hybrid Home
DVD & Guidebook by Ted Owens
Building With Awareness is the first publication of its kind on green building with straw bale and natural materials. Technique and process are ideally experienced by watching the video. The book has the advantge of convenient access to photos, diagrams, and instructions that can be taken to the worksite. Together, the Building With Awareness DVD and Guidebook form a powerful learning tool, second only to actually being on the worksite.

This award-winning DVD is inspiring and informative, detailing every aspect of building a green home. The handy-reference guidebook complements the DVD, with color photographs, diagrams, suggestions and step-by-step methods, all condensed into a nuts-and-bolts format. Used together, these two valuable resources provide a visually dynamic and easy-to-understand library of information.

Building with Awareness takes the mystery out of building a straw bale home, during both the design and construction process. Since the DVD and the book follow the construction of an actual straw bale house, you learn how to plan ahead so that the construction process goes smoothly. See how you can have both an energy-efficient home and a beautiful home by using the same natural materials.

Learn about foundations, post-and-beam wall framing, roof construction and insulation, window placement, interior thermal mass walls for energy efficiency, earth-plastering techniques, rainwater cisterns, electrical wiring, and photovoltaic systems.

The book and DVD are both divided into thirteen chapters. Every chapter covers a different phase of constructing the home, and the book shows the video location that corresponds to the time-reading on your DVD player. This permits finding specific video information as you read. The DVD is the recipient of 3 Telly Awards for production quality, including awards for Outstanding Multimedia DVD, Editing, and Use Of Graphics. The book is printed in full color on a high-grade paper with 100% recycled content. New Society Publishers. 2006. Book: 152 pages DVD 240 min. ISBN: 978-0977334315.
---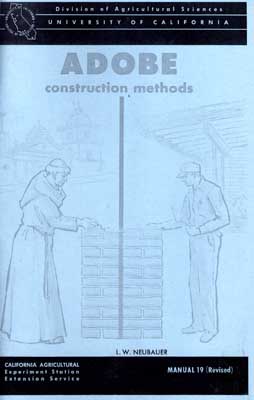 Adobe Construction Methods
UC California Agricultural Sciences Dept. 1964
by LW Neubauer
This is a very thorough primer for Adobe! It explains how to make and build with adobe bricks. Soil selection, stabilization and waterproofing with cement, emulsified asphalt, lime are detailed.

Describes how to build and mortar walls, place lintels, windows, doors, and build roofs. Shows diagrams of construction details from foundation to roof, with correct measurements given. Covers finishing, painting, limewashing, fireplaces and chimneys.

Even describes other tamped earth methods such as English Cob, rammed earth, poured adobe; with photos and diagrams of formworks used. Black and white photos throughout, this booklet was originally published by the UC California Agricultural Sciences Deptartment in 1964. It was out of Print for 40 years! 35 page booklet, 5"x7" size, Xerographic reproduction. Please order directly from Charmaine Taylor.
See also:
Making An Earthen Floor
Hardening Earth Floors & Finishing with Linseed Oil

See also: Living Homes: Stone Masonry, Log, and Strawbale Construction.