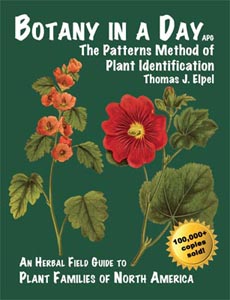 Botany in a Day APG
The Patterns Method of Plant Identification
An Herbal Field Guide to Plant Families
Sixth Edition, June 2013
By Thomas J. Elpel
Looking for a faster, easier, and engaging way to identify plants? Related plants have similar characteristics, and they often have similar uses. Rather than learning new plants one-at-a-time, it is possible to learn them by the hundreds, based on plant family patterns.

Each family of related plants has unique patterns for identification. Learn to recognize these patterns, and discover them again and again in the plants you encounter. It is possible to instantly recognize a plant never before seen, and in many cases, to know its edible or medicinal properties on the spot-even before you have identified it down to the species!

Botany in a Day is changing the way people learn about plants. A one-day tutorial introduces eight of the world's most common plant families, applicable to more than 45,000 species of plants. Master these eight patterns and have the skills to recognize an astonishing number of plants on any continent. Add to your repertoire by keying out entirely unknown plants and learning additional family patterns.

Botany in a Day is principally written for North America, but used and adored by readers all over the world. (Be sure to read this book review from Panama.) Botany in a Day is used as a textbook in numerous universities, high schools, and herbal schools. This book is widely used in nature programs and promoted in national parks. Botany in a Day is your passport connection to nature and discovering the amazing world of plants!

NOW IN COLOR! Sixth Edition, June 2013. 235 pages. Printed with soy-based inks on recycled paper made from 100% post-consumer waste. ISBN: 978-1-892784-35-3. Tom invested more than a thousand hours of additional work into the new book, primarily adding color artwork and updating the text to APG (the newest system of plant classification). Botany in a Day includes four indexes.
See what's new in Botany in a Day!
Order Direct from Thomas J. Elpel / HOPS Press, LLC
See the Package Discounts below for big savings!
See what the press is saying about Botany in a Day!
Try it out! Read this On-Line Article:
Learning to Identify Plants by Families
Participate in an On-Line Class using Botany in a Day:
www.BotanyEveryDay.com
---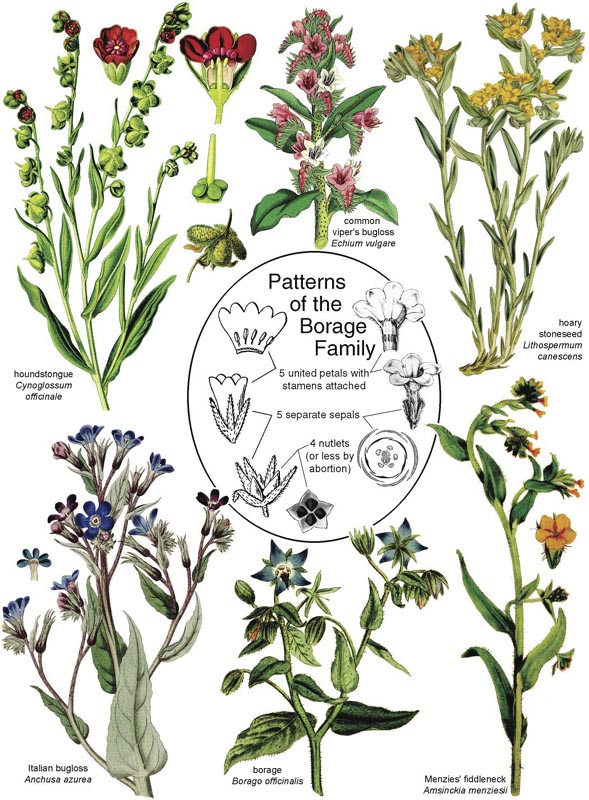 "Botany in a Day truly has the potential to become one of the most useful botany and herbal primers ever written."
--Peter Gail, Ph.D.
Goosefoot Acres
---
"Botany in a Day has my highest recommendation for anyone--beginner or expert-- interested in plants. Herbalists, naturalists, gardeners, and especially those involved in teaching outdoor and survival skills will wonder how they ever managed without this superb book."
--Susun S. Weed, Director
Wise Woman Center
---
"Botany in a Day is exactly what I needed for my botany classes. It goes beyond what is available in the standard field key, providing a wealth of information on individual families. Now my students are able to key local flora confidently, knowing they have reached the correct family by referring to Botany in a Day's detailed descriptions and pictures. They can become truly acquainted with the family's characteristics, constituents, medicinal uses, and patterns. I personally love all the stories about the edible plants, which describe in delicious detail how long it takes to collect and prepare each one."
--Garima Fairfax
Rocky Mountain Center for Botanical Studies
Boulder, Colorado


Share on Facebook!
Shopping for birthdays, holidays, resale, or use in the classroom?
Click Here for Wholesale Orders
Do you have an older edition of one of Tom's books?
Check out our special Upgrade Offer for faithful readers!