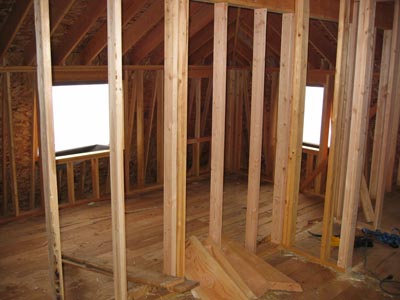 Wood Frame Construction
Building with Dimensional Lumber
Wood frame construction is the most common, most conventional method of house-building, used for the majority of contractor-built and owner-built homes. Many alternative houses, such as passive solar homes and tiny homes are also built with 2 x 4s, 2 x 6s, and 2 x 8s. For that matter, most non-wood frame homes, with stone walls, log walls, strawbale walls, or other materials, also have wood frame interior walls as well as wood frame roofs. So, it doesn't matter what you build, learning to design and build conventional wood frame walls is still an essential skill!


Building with dimensional lumber is fun and satisfying, especially for the speed in which a house takes shape. The builder can bang some walls together quickly, stand them up, and secure them in place, immediately giving a sense of size and space to the project at hand.

Regardless of what kind of construction you choose, Living Homes: Stone Masonry, Log, and Strawbale Construction includes insightful coverage of wood frame walls, roofs, and floors, which can be useful to your project. The book especially emphasizes alternative wood framing techniques, such as exposed-beam roofs and floors, where at least some of the natural wood is visible from below. For total wood frame construction, be sure to consider the titles included below.
Recommended Guide Books
---
The Real Goods Independent Builder
Designing & Building a House Your Own Way
by Sam Clark
"A successful project requires getting a lot of simple decisions right. My goal is to help readers succeed at this process, and also realize their imaginative design goals." -- Sam Clark

This is a comprehensive manual of design and building methods for owner-builders as well as professional builders and their clients. In addition to presenting specific building techniques, the book explains the design principles and planning processes that underlie all good building, so that readers can develop their own exceptional designs, independently.

The Real Goods Independent Builder develops subjects not covered thoroughly in other books, but critical to success: Designing small houses that seem big; Understanding innovation; Estimating and controlling costs; Incorporating ergonomics and accessibility; Doing drawings and scale models, and making contracts that work.

"I am planning to build an owner-built house next summer, and have read upwards of 50 books on the subject. The Independent Builder is by far the best. It shared wisdom in addition to information."
-- Mark Harrison of Jaffrey, New Hampshire
---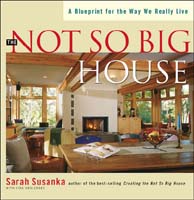 The Not So Big House
A Blueprint for the Way We Really Live
by Sarah Susanka
Nearly a quarter-million people bought this ground-breaking book when it was published in Fall 1998. Since then, the book's simple message -- that quality should come before quantity -- has started a movement in home design. Homeowners now know to expect more. And the people responsible for building our homes have also gotten the message. Architects and builders around the country report clients showing up with dog-eared copies of The Not So Big House, pages marked to a favorite section.

Why are we drawn more to smaller, more personal spaces than to larger, more expansive ones? At parties, why do we spend more time in the kitchen and family rooms than we do in the formal living and dining rooms? What makes the sunny, intimate breakfast nook more inviting than the vaulted spaciousness of a cathedral-ceiling great room? The Not So Big House proposes clear, workable guidelines for creating homes that serve both our spiritual needs and our material requirements, whether for a couple with no children, a family, empty nesters, or one person alone. 200 pages. 1998. ISBN: 1-56158-376-6.


---
Creating the Not So Big House
Insights and Ideas for the New American Home
by Sarah Susanka
The Not So Big House (above) created a movement that is changing the way people think about the American home. That groundbreaking book proposed a new blueprint for the American home: a house that values quality over quantity, with an emphasis on comfort and beauty, a high level of detail, and a floor plan designed for today's informal lifestyle.

Creating the Not So Big House is the blueprint in action. Focusing on key design strategies such as visual weight, layering, and framed openings, Sarah Susanka takes an up-close look at 25 houses designed according to Not So Big principles. The houses are from all over North America in a rich variety of styles -- from a tiny New York apartment to a southwestern adobe, a traditional Minnesota farmhouse, and a cottage community in the Pacific Northwest. Whether new or remodeled, these one-of-a-kind homes provide all the inspiration you need to create your own Not So Big House. 258 pages. 2001. ISBN: 1-56158-605-6.
---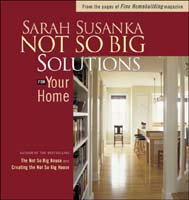 Not So Big Solutions For Your Home
From the Pages of Fine Homebuilding Magazine
by Sarah Susanka
Sarah Susanka has done it again. Following in the footsteps of her first two influential works, Not So Big Solutions for Your Home provides over 30 design solutions originally featured in Fine Homebuilding magazine. Ranging from selecting the site for a new home to figuring out where to put the afternoon mail, Susanka's new book helps you find practical, hands-on solutions to transform your living space -- regardless of your skill level or budget. The book includes details on:
Site selection: avoiding the pitfalls
Designing a gracious entry
The kitchen/family room relationship
A porch for all seasons
Designing a pantry
Using tile to personalize a kitchen or bathroom
How to use skylights for maximum effect
Making the most of your remodeling budget
The art of adding on
The book includes 30 color photographs, along with over 150 drawings from Sarah Susanka's own sketchbook, illustrate practical home-design ideas for everyday living. You'll be able to transform any house into a great house that looks, works, and feels right for you.
---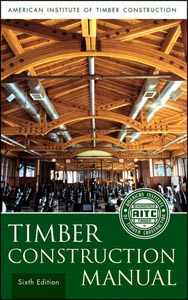 Timber Construction Manual
by American Institute of Timber Construction (AITC). Edited by Jeff D. Linville
This is the definitive design and construction industry source for building with wood-now in a thoroughly updated Sixth Edition.

Since its first publication in 1966, Timber Construction Manual has become the essential design and construction industry resource for building with structural glued laminated timber. Timber Construction Manual, Sixth Edition provides architects, engineers, contractors, educators, and related professionals with up-to-date information on engineered timber construction, including the latest codes, construction methods, and authoritative design recommendations. Content has been reorganized to flow easily from information on wood properties and applications to specific design considerations.

Based on the most reliable technical data available, this edition has been thoroughly revised to encompass:

-A thorough update of all recommended design criteria for timber structural members, systems, and connections
-An expanded collection of real-world design examples supported with detailed schematic drawings
-New material on the role of glulam in sustainable building practices
-The latest design and construction codes, including the 2012 National Design Specification for Wood Construction, AITC 117-2010, and examples featuring ASCE 7-10 and IBC 2009
More cross-referencing to other available AITC standards on the AITC website

Since 1952, the American Institute Of Timber Construction has been the national technical trade association of the structural glued laminated timber industry. AITC-recommended building and design codes for wood-based structures are considered authoritative in the United States building industry. 672 pages. 6th Edition. 2012. ISBN: 978-0470545096.

See also: Living Homes: Stone Masonry, Log, and Strawbale Construction.