Strawbale House Construction
Books & Overview
by Thomas J. Elpel, Author of Living Homes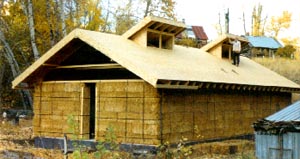 Strawbale buildings are all the rage in alternative construction today, and with good reason--they are cheap, easy to build, and very energy efficient. Strawbale buildings look similar to adobe, with massive walls, wide window sills and typically rounded corners, but with the added benefit of a higher insulation value. The soft, sometimes curvy edges of strawbale construction can lend a fairy tale look to the finished structures. The fun part of strawbale construction is that anyone can do it. Anyone can help stack the fluffy, oversized bricks in place.

Strawbale homes and outbuildings were first developed by pioneers in the Sand Hills of Nebraska where there was lots of straw, but few trees. The early pioneers built houses of sod, up until the late 1800's when baling technology provided the first compressed, string-tied rectangular bales. The next logical step was to stack those bales like bricks to make warm walls. Strawbale buildings from the early 1900's are still in use and in excellent condition today.

Due to publicity in the 1980's and 1990's there are now strawbale buildings popping up all over the world--in wet and dry climates, from hot southern environments to chilling northern extremes.

Strawbale homes are very well insulated. The orientation of the straw in the bales makes some difference in the insulation value. Bales laid flat (with strings running around the top and bottom) rate about R-2.4 per inch while those laid on edge (with strings running around the sides) rate R-3 per inch. However, the bales are usually wider when laid flat than on edge, giving a higher overall R-value. The bales are slightly stronger too, when laid flat.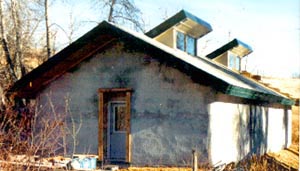 There are two types of strawbale houses. One type has load-bearing walls, where the weight of the roof is supported by the bales, while the others are non-load bearing, where the roof is supported by a framework and the bales are filled in afterwards. There are advantages and disadvantages to either approach.

In a load-bearing strawbale building the windows and doors have to be placed carefully to avoid compromising the strength of the walls, and the roof has to be designed to equalize the load distribution to the walls. The size of the building, the height of the walls, and compression and settling of the bales under the weight of the roof and potential snow loads must also be considered. All of these obstacles are overcome when using an independent support structure for the roof. My neighbor built a very large load-bearing strawbale workshop, but it has only two doors and no windows. Two pictures of the building are shown in the pictures here. The details of the project are featured in Living Homes.


Typical support structures for non-load bearing strawbale buildings include conventional lumber framing as well as timber framing, framing with poles or logs, or concrete posts and beams. The support structure holds up the roof, taking the pressure off the bales (and the builder). Besides, a supporting framework enables you to put up the roof first, so that the rest of the work can proceed inside the shelter, protecting yourself, your tools and the strawbales from the weather. That's important since it only takes one rainstorm to soak the tops of the unprotected bales, quickly rotting out your good work.

On the other hand, a supporting framework often requires more lumber than you would use with load-bearing walls, and the framing tends to get in the way of the bales, requiring extra design work to position the framing for minimal interference with the walls, and/or to notch into the bales to fit around the framing. The strawbale home pictured here is a non-load bearing structure built by another neighbor. It is also featured in Living Homes.
Living Homes
Stone Masonry, Log, and Strawbale Construction
by Thomas J. Elpel
Although there is only one chapter on strawbale construction in Living Homes, it is packed with the essential details of strawbale construction and tied together throughout the book with all other aspects of building, from innovative foundation solutions to creative roofing ideas, solar design, heating, plumbing and wiring. For complete details on the book, please go to: Living Homes: Stone Masonry, Log, and Strawbale Construction
---
The Strawbale House
by Athena and Bill Steen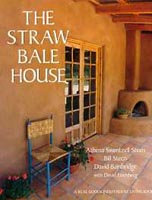 Imagine building a house with superior seismic stability, fire resistance, and thermal insulation, using an annually renewable resource, for half the cost of a comparable conventional home. Welcome to the straw bale house! Whether you build an entire house or something more modest--a home office or studio, a retreat cabin or guest cottage--plastered straw bale construction is an exceptionally durable and inexpensive option. What's more, it's fun, because the technique is easy to learn and easy to do yourself. And the resulting living spaces are unusually quiet and comfortable.

The Straw Bale House describes the many benefits of building with straw bales: super insulation, with R-values as high as R-50; good indoor air quality and noise reduction; a speedy construction process; construction costs as low as $10-per-square-foot; use of natural and abundant renewable resources; a better solution than burning agricultural waste straw, which creates tons of air pollutants.
---
Serious Straw Bale
A Home Construction Guide for All Climates
by Paul Lacinski and Michel Bergeron
When The Straw Bale House was first published the response from many people was a loud, "Huh?!" But those days are gone and we've entered a new era. Even building-code officials and insurance companies now look favorably upon straw bale buildings, with their extraordinary energy efficiency and wise use of agricultural waste for construction materials.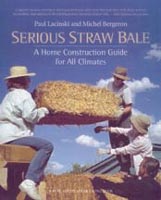 Bergeron and Lacinski's book is the first to look carefully at the specific design considerations critical to success with a straw bale building in more extreme climates--where seasonal changes in temperature, precipitation, and humidity create special stresses that builders must understand and address. The authors draw upon years of experience with natural materials and experimental techniques, and present a compelling rationale for building with straw--one of nature's most resilient, available, and affordable byproducts. For skeptics and true believers, this book will prove to be the latest word.

Thorough explanations of how moisture and temperature affect buildings in seasonal climates, with descriptions of the unique capacities of straw and other natural materials to provide warmth, quiet, and comfort year-round. The book includes comprehensive comparisons between the two main approaches to straw bale construction: "Nebraska-style," where bales bear the weight of the roof, and framed structures, where bales provide insulation. Also included is detailed advice--including many well-considered cautions-for contractors, owner-builders, and designers, following each stage of a bale-building process.

This is a second-generation straw bale book, for those seeking serious information to meet serious challenges while adventuring in the most fun form of construction to come along in several centuries.
---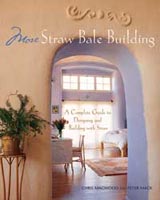 More Straw Bale Building
A Complete Guide to Designing and Building with Straw
by Chris Magwood, Peter Mack, and Tina Therrien
Straw bale building is no longer a fringe idea, but has blossomed into a mature and highly developed construction technique that is widely practiced in North America and elsewhere. Houses built from straw bales are straightforward to build, affordable, super energy efficient, environmentally friendly, attractive, and can be designed to match the builder's personal space needs, esthetics, and budget. But with the evolution of the method, the details of what to avoid and how to achieve acknowledged best practices have also changed.

More Straw Bale Building is a completely rewritten edition of the 20,000 copy best-seller Straw Bale Building. It leads the potential builder through the entire process of building a bale structure, tackling all the practical issues: finding and choosing bales; developing sound building plans; roofing; electrical; plumbing, and heating systems and building code compliance.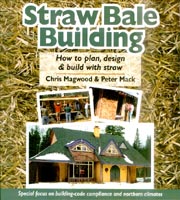 Now, with More Straw Bale Building, this technique is explained in the fullest depth yet, enabling everyone who wants to build with bales to do so with confidence, safety and flair and to do so in compliance with local building codes. Furthermore, while many early straw bale buildings have been built in drier, southern climates, More Straw Bale Building includes a special focus on northern climate construction.

More Straw Bale Building guides the reader through every stage of the design and building process and is heavily illustrated with both architectural quality drawings and photographs of on-the-job action. With its extensive listing of further resources, it provides all you need to plan and then create the building of your dreams!

The authors are professional straw bale house builders, co-founders of Camel's Back Construction. Together they have constructed more than fifty straw bale houses and structures. They have taught strawbale classes in several countries.
---
Straw Bale Details
A Manual for Designers and Builders
by Chris Magwood & Chris Walker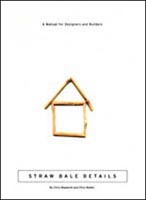 Straw Bale Details is the perfect companion for those who are serious about building with straw. There isn't a lot of text in the book, just high-quality drawings detailing how all the parts fit together in a straw bale house.

It focuses entirely on the specific design theories and practices that result in well-built, long-lasting bale structures, and extends the range of books like Straw Bale Building through large, easy-to-read architectural drawings rendered for a wide variety of building options, including load-bearing and post-and-beam designs. A range of foundation, wall, door and window, and roof-plate scenarios are presented, along with explanatory notes and possible modifications. Also included is testing data from the most recent rounds of bale wall exploration, and interpretations of the data are given to help base designer and builder decisions on sound science.

Chapters include: Foundations & Floors; Curb Rails; Walls; Openings; Top Plates; Pre-Stressing; Roofs; Wall Mounting, Electrical & Plumbing Systems; as well as sections on Key Scientific Test Results; Building Code Provisions; Bale Basics; Plasters & Finishes; and a Bibliography.
---
Buildings of Earth and Straw
Structural Design for Rammed Earth and Straw-Bale Architecture
by Bruce King, P.E.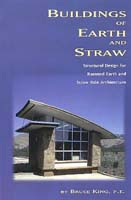 There are many other excellent books on strawbale and rammed earth construction to help guide the novice builder down the path to building the house of their dreams. Buildings of Earth and Straw is intended more as a companion to the other guides, rather than a competitor. Author Bruce King has tackled the engineering side of working with earth and straw building materials to create a common language for builders, architects, and building inspectors. With this book as your guide, you can build a strawbale or rammed earth house in a way that is truly structurally sound and you can provide the building inspector with the engineering data to back it up.

Although parts of the book will require an engineering background to understand it, most of the content is accessible to the lay person, and King makes even the mundane engineering interesting, and at times, humorous. This book is truly essential for anyone building a strawbale or rammed earth house in places where building codes are enforced. In places where building codes do not exist, this book is still highly recommended, to insure that you build a safe and stable structure.
---
Strawbale Home Building DVD Triplepack
Hosted by Andrew Morrison
Hoping to build a strawbale house? Start with Andrew Morrison's strawbale house-building DVDs. Start at ground level and learn how to pour a professional concrete slab with Morrison'sBuilding a Monolithic Concrete Slab Foundation DVD. Next, in Building with Straw Bales DVD: Post and Beam Infill, Morrison shows how to build strawbale walls, featuring the latest techniques for fast and quality construction. And in Plastering with Natural Hydraulic Lime (NHL) Morrison demonstrates the simple secrets of applying a quality lime plaster to a strawbale home.

Quick Summaries:

Building a Monolithic Concrete Slab Foundation DVD
Finally there's a video that explains how to properly build a concrete slab from start to finish! See the entire process step-by-step, from grading the site to polishing the perfect concrete slab. Slab-on-grade construction is popular in strawbale and frame house construction, and for numerous projects such as garages, guest cottages, outdoor patios, additions, workshops, and studios. Read More...

Building with Straw Bales DVD: Post and Beam Infill DVD
This is a high quality DVD, showing close-up details of the building process. Each step is thoughtfully articulated by general contractor Andrew Morrison. By implementing these techniques you will be able to effectively build your own straw bale project with basic carpentry skills and no prior straw bale experience. Read More...

Plastering with Natural Hydraulic Lime (NHL) DVD
The step-by-step instructions in this comprehensive DVD clearly describe the latest tips and techniques for mastering the application of Natural Hydraulic Lime Plaster. Learn about the advantages of hydraulic lime plaster versus traditional Portland cement plaster and stucco. Learn about the ideal tools to create the best, smoothest, and most even plasters, with customized recipes for the scratch coat, brown coat and finish coat. Read More...


---
Small Strawbale
Natural Homes, Projects & Designs
by Bill & Athena Steen and Wayne J. Bingham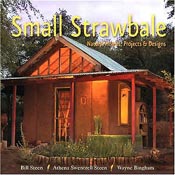 Whether you are planning to build a full-size house or just a cottage, Small Strawbale is a great book for creative ideas and small-scale projects that anyone can do to practice their building skills, while creating fully functional, useful structures. Small Strawbale is filled with vibrant photos of one-room and two-room homes, greenhouses, studios, sheds, meditation spaces, out-buildings, open-air structures and more, each showcasing unique artistry and craftsmanship. Small Strawbale is an inspirational starting point for the strawbale dreamer.

This collection of lively structures remind us that building one's own home is a desire that is largely inherent in all creatures and that it is only in recent times that we have begun to think of the process as something that we are incapable of doing and that needs to be delegated to experts and professionals. In no way are the structures presented here the perfect examples of the best or ideal way to build. What they do represent are conscious and deliberate attempts by those hoping to rediscover the meaning of shelter while escaping the unnecessary extravagance of modern, oversized houses and the soulless repetitiveness of mass-produced structures.

Small Strawbale showcases projects that are accessible to the average person or inexperienced builder. It includes some diagrams and floorplans but it is not intended as a construction guide. Rather, this book shows what is possible with a little straw and a little enthusiasm, while working entirely within one's means. Gibbs Smith, Publisher. 2005. 200 Pages.
---
The New Strawbale Home
by Catherine Waneck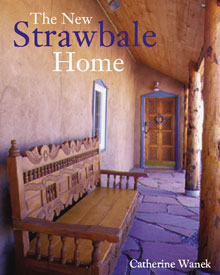 In recent times, strawbale homebuilding has widely been accepted as a mainstream building method. Innovative architects and owner/builders are reinventing this century-old technology to create thick-walled modern houses of surpassing beauty. However, many people are not yet familiar with the beauty and possibilities of strawbale homes.

The New Strawbale Home compiles flor plans and images from forty cutting-edge homes across North America, from California to Quebec, New Mexico to New England, showcasing a spectrum of regional styles and personal aesthetic choices. This practical guide discusses varying climate considerations and essential design details for problem-free construction and low maintenance, and also points out the ecologically friendly, energy-saving aspects of strawbale construction.

Author and photographer Catherine Wanek has spent more than a decade writing, photographing, and filming strawbale technology.
---
Strawbale Home Plans
by Wayne J. Bingham and Colleen Smith
Strawbale building experts Wayne J. Bingham and Colleen Smith present 30 unique plans to build a strawbale home, along with stunning photographs that illustrate projects from around the world. A broad range of building types, from small retreats and rural off-the-grid homes to urban houses and commercial buildings are featured. Bingham and Smith demonstrate that strawbale construction can be among the healthiest and most energy-saving building options, resulting in dramatic reductions on heating and cooling bills. Strawbale construction can also significantly decrease the risk of allergies from airborne molds, pollens, and toxins. 192 pages. 2007. Gibbs Smith Publisher. ISBN: 978-1586858612.
---

Go to: Living Homes: Stone Masonry, Log, and Strawbale Construction.