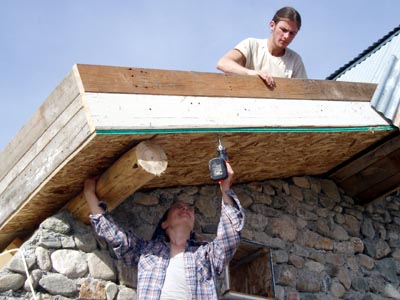 Green Building Materials
Scavenge First, Then Go Shopping
Working with green building materials doesn't have to be more expensive than conventional materials from the lumber yard. In fact, the greenest building materials are those that you can scavenge and utilize for free. I've been successful at scavenging all kinds of things, especially local rocks for stone masonry, polystyrene insulation and cinderblocks from the scrap piles at the local factories, and copious lumber from the local dump, among other things.


If I can't find something for free, then I'll shop for it at local secondhand building material stores, such as the Habitat for Humanity Restore. As a last resort, it becomes necessary to shop for new building materials. Sustainable sourced materials and recycled content are gradually going mainstream, so there may be a few environmentally friendly supplies at your local lumber yard. But eco-friendly options may not always be readily available or well-known. The guide books featured on this page can show you what green building materials are available and how to get them. Also be sure to read Living Homes: Stone Masonry, Log, and Strawbale Construction for lots of innovative ideas about working with local and scavenged building materials.
Recommended Guide Books
---
Green Building Products
The GreenSpec Guide to Residential Building Materials
Edited by Alex Wilson and Mark Piepkorn. Foreward by Sarah Susanka
Product categories include:

Sitework and landscaping
Outdoor structures
Decking
Foundations, footers and slabs
Structural systems and components
Sheathing
Exterior finish and trim
Roofing
Doors and windows
Insulation
Flooring and floor coverings
Interior finish and trim
Caulks and adhesives
Paints and coatings
Mechanical systems/HVAC
Plumbing, electrical and lighting
Appliances
Furniture and furnishings
Renewable energy
Distributors and retailers

Interest in sustainable, green building practices is greater than ever. Whether concerned about allergies, energy costs, old-growth forests, or durability and long-term value, homeowners and builders are looking for ways to ensure that their homes are healthy, safe, beautiful, and efficient.

In these pages you'll find descriptions and manufacturer contact information for more than 1,400 environmentally preferable products and materials from ag-fiber panels to zero-VOC paints. All phases of residential construction, from sitework to flooring to renewable energy, are covered. Products are grouped by function, and each chapter begins with a discussion of key environmental considerations, and what to look for in a green product. A miscellaneous section also lists products for hazardous materials testing and remediation, insect control, recycling, and wood products certification. An index of products and manufacturers makes for easy navigation. There is no more comprehensive resource for both the engaged homeowner, as well as all those who design and build homes.

About the Contributors
Alex Wilson is president of BuildingGreen, Inc. and serves as executive editor of Environmental Building News, a monthly newsletter on environmentally responsible building design and construction, and as coeditor of the GreenSpec® product directory. He consults and lectures widely on sustainable design and serves as Secretary of the board of directors of the U.S. Green Building Council. Prior to starting his own company in 1985 (now Building-Green), he was executive director of the Northeast Sustainable Energy Association for five years; and in the late '70s, he taught workshops on passive solar design and construction in New Mexico. Alex has written about energy-efficient and environmentally responsible design and construction for more than 25 years and is author, coauthor or editor of several books and manuals, including Greening Federal Facilities (U.S. Dept. of Energy), The Consumer Guide to Home Energy Savings (ACEEE, 8th edition, 2003) and the Rocky Mountain Institute's comprehensive textbook Green Development: Integrating Ecology and Real Estate (John Wiley & Sons, 1998). He has also written hundreds of articles for other publications, including Fine Homebuilding, Architectural Record, The Construction Specifier, Landscape Architecture, and Popular Science. Alex is a trustee of the Vermont Chapter of The Nature Conservancy.

Mark Piepkorn is associate editor of Environmental Building News and the lead products researcher for GreenSpec®, both publications of BuildingGreen, Inc. His knowledge of conventional and alternative construction methods, materials and building science-in applications as diverse as underground structures, vernacular timber construction, and earthen techniques, as well as the rehabilitation and remodeling of conventional structures-lends an interesting and important perspective to the understanding of the roles of manufactured products and materials in our built and conditioned environments. Active in the natural building movement, Mark has also been the editor of The Last Straw, an international newsletter about straw-bale construction and natural building.
---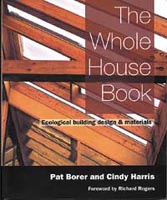 The Whole House Book
Ecological Building Design & Materials
By Pat Borer and Cindy Harris
A full-color, green building encyclopedia for professionals or self-builders, this book's wholistic approach to design combines social, economic and environmental objectives with an evaluation of buildings' local and global impact. Chapters range from creating a healthy house with good air quality, to designing a home with minimum reliance on fossil fuels. Case studies highlight sustainable materials, solar roofs, ecological building in North America and France - and more! Note that this book originates from Europe and may contain measurement units, etc. not commonly used in the US. 320 pages. 500+ color illustrations.

See also: Living Homes: Stone Masonry, Log, and Strawbale Construction.