The Humanure Handbook
A guide to composting human manure
by Joseph Jenkins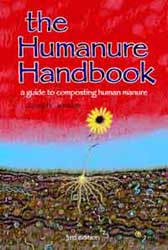 There are almost seven billion defecating people on planet Earth, but few who have any clue about how to constructively handle the burgeoning mountain of human crap. The Humanure Handbook, third edition, will amuse you, educate you, and possibly offend you, but it will certainly pertain to you. This new edition of The Humanure Handbook is the tenth anniversary edition, richly illustrated, perfect for reading while sitting on the "throne," and revised, improved, and updated with 255 pages of crap.

Joseph Jenkins has composted humanure at his home in Pennsylvania for twenty-six years, while raising a family. During that time he has developed an extraordinary depth of insight into the processes involved. His easy writing style, thorough research, and execrable humor have caused his books to be published on three continents and circulated around the world.

The second edition of The Humanure Handbook was the winner of the Independent Publisher 2000 Outstanding Book of the Year Award, deemed "the book most likely to save the planet!"

The Humanure Handbook includes 19 photos, 42 tables and charts, and 55 drawings. Third Edition. September 2005. 255 pages. Chelsea Green Publishing. ISBN: 978-0-9644258-3-5. Be sure to read the article Humanure: Goodbye, Toilets. Hello, Extreme Composting in Time magazine.

See also: Living Homes: Stone Masonry, Log, and Strawbale Construction.