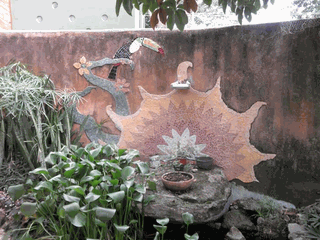 Alternative Architecture
Innovative ideas for your new home
Looking for some innovative ideas for your new home? Every building project begins with a grand vision - some rustic, some modern, some conventional, some edgy and offbeat.

In this selection of architecture books you will find all kinds of inspirational ideas for any kind of hobbit-hole, house, or castle you might dream of building.

Also consider Living Homes: Stone Masonry, Log, and Strawbale Construction - Building Your High-Efficiency Dream Home on a Shoestring Budget for in-depth coverage of energy-efficient architecture.
Architectural Books
---
Shelter
The 1973 Classic Back in Print!
Edited by Lloyd Kahn
Thinking about building a house? Start by challenging your preconceived notions about what a house should be with Lloyd Kahn's classic book: Shelter.

Shelter is a compendium of organic architecture past and present; a how-to book that includes over 1,250 illustrations; and a Whole Earth Catalog-type sourcebook for living in harmony with the earth by using every conceivable material. First published in 1973, Shelter remains a source of inspiration and invention. Including the nuts-and-bolts aspects of building, the book covers such topics as dwellings from Iron Age huts to Bedouin tents to Togo's tin-and-thatch houses; nomadic shelters from tipis to "housecars"; and domes, dome cities, sod iglus, and even treehouses.

The authors recount personal stories about alternative dwellings that illustrate sensible solutions to problems associated with using materials found in the environment - with fascinating, often surprising results. 176 pages. 1973. Oversize: 11" x 14" Shelter Publications. ISBN: 978-0-936070-11-7.
Click on the pages below for a closer look!

---
Home Work
Handbuilt Shelter
By Lloyd Kahn
A stunning sequel Shelter, Home Work illustrates even more imaginative ways to put a roof over one's head, some of which were inspired by Shelter itself. Home Work showcases the ultimate in human ingenuity, building construction, and an independent lifestyle.

Home Work describes homes around the globe built with soul, creativity, and designed with a solid understanding of natural materials, structure, and aesthetics. Home Work contains over 1,000 photos and 300 line drawings, stories of real people building and living in their own homes, plus photos, stories, and feedback gathered over the thirty years since Shelter was first published.

Home Work features: homes, cabins, cottages, bungalows, homesteads, sheds, shacks, huts, treehouses, bottle houses, yurts, hogans, tipis, tents, beach shacks, stilt houses, greenhouses, small house designs, domes, zomes, fantasy houses, gypsy wagons, workspaces, barns, shops, Mississippi shotgun shacks, kitchens, bedrooms, bathrooms, and studios made of wood, straw bale, cob, stone, bamboo, thatch, timber-frame, log, ferro-cement, papercrete, and earthbag by builders, designers, artists, homesteaders, and dreamers! 245 pages. 2004. 8 1/2" x 11" Shelter Publications. ISBN: 978-0-936070-33-9.
---
Builders of the Pacific Coast
By Lloyd Kahn
There's been a vortex of creative carpentry energy along the Pacific Coast over the last thirty years. Lloyd Kahn made four trips up the coast over a two-year period, shooting the photos that appear in this book.

Many of the builders shown here got started in the countercultural era of the '60s and '70s, and their work has never been shown in other books or magazine articles. As in the author's previous books Shelter and Home Work, there are three featured builders: Lloyd House, master craftsman and designer who has created a series of unique homes on a small island; Bruno Atkey, builder of a number of houses and lodges built of hand-split cedar on "The Wild Coast" (the Pacific Ocean side of Vancouver Island), and SunRay Kelley, barefoot builder tuned into Nature, who has designed and built wildly imaginative structures in Washington, California, and other parts of the country. In addition, there are working homesteads, sculptural buildings of driftwood, homes that are beautiful as well as practical, live-aboard boats, gypsy-type caravans, and examples of stunning architectural design.

The two predominant features of the landscape along the Pacific Coast are water and wood. Most of these buildings are on or close to the sea. Trees grow fast and tall in rainy Northwest forests; many of these buildings were constructed entirely from logs off the beach or trees from adjacent land. You are invited to join Kahn's journey up and down the coast: driving the roads, riding the ferries, camping on the beaches, meeting these builders, and seeing their unique creations. Kahn took10,000 photos and selected 1,200 for the book. Flip through the pages and you will see delightful architecture such as a roof shaped like a leaf, a woodshed shaped like a bird, a boat house on stilts, curving roofs and more. 256 pages. 2008. 8 1/2" x 11" Shelter Publications. ISBN: 978-0-936070-43-8.
---
Handmade Houses
by Steven Paul Whitsitt and Tina Skinner
Visit a dozen exciting homes where the owners have ignored standard building practices in favor of creative alternatives. These homes, found from Massachusetts to California, are expressive of individuality as well as artistry, and you'll be inspired to branch out and craft your own unique living space. Homes featured include Eliphante near Sedona, Arizona, a four-acre art installation complete with free-form rammed-earth buildings and handmade stained glass. You'll also tour the sculpted grounds and meditation huts of a recycling artist and guru, and the mystical home and gardens of Gnome Countryside, in southern Pennsylvania. See the latest take on the arts and crafts style in California, along with simplistic and beautiful straw bale homes in Virginia and Massachusetts. This book pays tribute to a long line of thrifty and artistically gifted homeowners who have created beauty from simple materials to live in homes that are art. Hardcover / 111 pages. 2009. Schiffer Publishing. ISBN-13: 978-0764332036.
---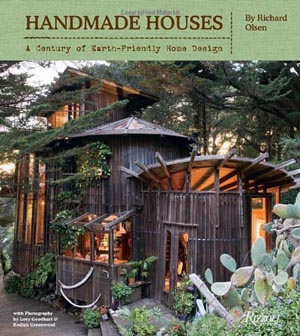 Handmade Houses
A Century of Earth-Friendly Home Design
by Richard Olsen
Showcasing one hundred years of innovation and environmental sensitivity, Handmade Houses celebrates some of the world's most idiosyncratic homes from Big Sur to Sardinia. Author Richard Olsen unveils the components used for their construction, including driftwood, boulders, and even old wine vats.

The first study of the handmade-homes phenomenon since its inception in the late 1960s, Handmade Houses revisits the subject's roots and history, exploring how these homes and their owners paved the way for the architectural-salvage business and the reclaimed, industrial look ever-popular today. As fascinating as the structures are themselves, their owners-professionals and amateurs who personally designed and built each residence-offer their inspirations and stories behind the convention-defying homes. Design lessons are gleaned from each home-some examples of environmentally aware construction with applicable tips for use in more mainstream scenarios. Handmade Houses is an important and relevant volume to be appreciated by anyone interested in environmentally friendly design, craft, and the expression of personal style in the home. Hardcover / 240 pages. 2012. ISBN: 978-0847838455.
---
Wonderful Houses
Around the World
By Yoshio Komatsu, illustrated by Akira Nishiyama
Fascinating and unique, Wonderful Houses Around the World introduces children to other places and other lives throughout the world. Glorious two-page photographic spreads capture families outside their homes, be they simple or imposing. Detailed cutaway illustrations reveal the inside of each house, showing the various family members engaged in typical daily activities. Captions explain where each house is located, the environmental conditions that affect the house design, how the family lives in the home, and their possessions - all providing interesting glimpses of life in other cultures.

The ten houses profiled include a red mud dwelling with thatched towers in Togo, a yurt in Mongolia, a steep-roofed, shake-covered house in Transylvania, and a large donut-shaped communal building for 300 in China. This book increases children's wonder about and cultural awareness of the many different people and ways of life around the world. Wonderful Houses features unique homes from Mongolia, China, Indonesia, India, Romania, Tunisia, Spain, Togo, Senegal, and Bolivia. 43 pages. 2008. 7 1/2" x 10" Shelter Publications. ISBN: 978-0-936070-35-3.

See also: Living Homes: Stone Masonry, Log, and Strawbale Construction.