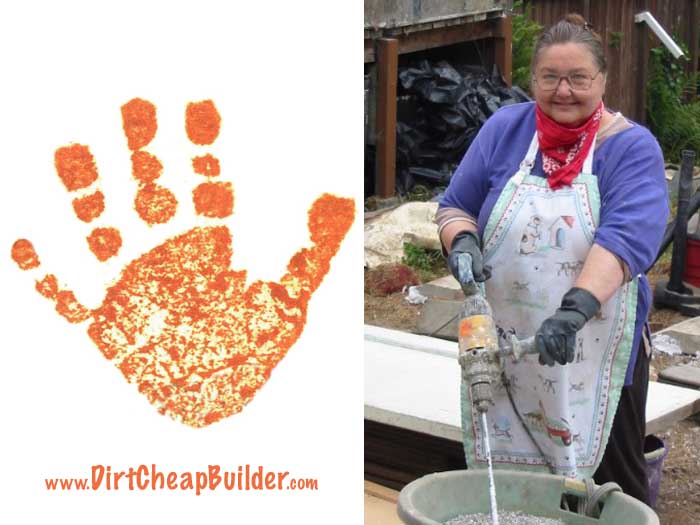 Meet Charmaine Taylor
Founder of www.DirtCheapBuilder.com.
Naturally, people ask me what kind of house I live in. While I love all the natural methods, especially earth and cob, I chose to buy an old cottage and bring it back to life using "green" and salvaged materials.

Little Green Cottage
My 1949 house is a total of 1150 square feet, with solid redwood planking, including a sunroom, and a laundry room cobbled on sometime in the 1950s. Cottage-style windows, a brick entry and a formal (if weedy) English garden in front made it a charming "find." A separate 14' x 20' studio building and a sturdy goat shed complete the structures. Two giant redwood tree stumps, more than 12 feet tall, exist on the property, one stump is big enough to host a Hobbit house inside.

Wood Projects: I have re-planed all the weathered redwood board fencing to make beautiful new gates and fences... the cost? Elbow grease. This older growth tongue & groove wood cannot be bought anymore, and is better in strength and quality than any newer wood I could buy. So all salvage is denailed, stripped, planed and recycled where needed. Replacing subfloors; exterior planking to cover an unused door, and similar projects let me reuse wood without buying new. Natural Lime & Clay Paints: I am using a 'free' wall paint made of clay and lime water and a Chinese invented lime-paper plaster that has been used on the walls of a guest bathroom, for a very old world look.


Solar Hot Water: We don't have steady, reliable solar gain, even in summer, so other methods are necessary. I recently acquired a water tank, from the 1920s. It is designed to lie on its side, and intake cold water, and discharge gravity fed hot water. I plan to mount this at roof level on my patio, and glaze a box around it, so I can use solar-heated hot water to run the washing machine. ( And avoid a pricey re-plumbing job to the washer.) I used to use an old-fashion wringer washer until it dies. For a working 1950-70 model expect to pay $50-$120. Make sure the motor can operate the agitator and wringer works).

For showers and household hot water I use an electric hot water heater and timer, using the timer just 2-3 hours a day cut my hot water bill significantly. The HWH was placed inside a free shed I built, from new materials harvested from the scrap pile at a local bank being constructed. The job manager was happy to see me haul off the scrap Hardi-planks and 2 x 4s. A new on- demand gas powered HWH tank will be installed to convert my work studio into an apartment.

Tire Pottery: I have shrubs and butterfly bushes growing in "tire pots" - car tires cut and turned inside out, which look like large pottery, and don't hurt the lawnmower if I run into them.

Free Glass: I completed an enclosed glassed-in patio (to replace the dark, leaky wooden one) from a series of 18 cottage-style window, all 6 and 8 pane, salvaged from a nearby 1902 house remodel.

Tufastone: I've poured stepping stones and step-offs from a natural lime-clay-fibercrete mix, and embedded them with river stones. I use the sidewall "rings" cut from the auto tires as a base circle for stepping stones, they can be filled with gravel, or a poured Tufastone mix, and are very durable.

"Rub-R-Slate" Flooring: I located the "lost" sixty-year old recipes for "Rub-R-Slate" created by Jack Bays in the 1930s. This asphalt emulsion additive recipe (to clay and paper) can be used to make durable, insulated and cushioned floors over old wood or linoleum for almost free. It can be poured or painted on, and serves as a strong wet resistant base for conventional materials such as carpet, etc., and it can be finished as the final flooring material too.

I barter, trade, and dumpster dive, and have been known to knock on a neighbor's door;or visit any new construction site when they are finishing a project, to salvage any useable materials. It saves them money in dump fees, and they are usually happy to let you take it. Always ask first! Liability laws may prevent you from walking on the site to remove items, and you should always wear sturdy shoes, and gloves, safety glasses or other safety gear when on construction sites, to protect your valuable eyesite, cranium, and limbs.

Finally, I am planning a garden patio poured using a brickmold pattern and Tufastone mix- a natural 'stone-like' recipe I created, made with no or little cement.

The point of all this is that you can literally "find" anything for free, and make use of it in some way. The trick is not to haul home too much scrap and get too far ahead of your projects.

But if you plan to build anything, get used to the idea that your job site will look like a salvage yard ( or like a Hoarder) for a long time. Keep friendly relations with neighbors who won't understand you, and hide as much of the "mess" as possible to keep them happy. Buy as little as possible and never be afraid to ask for something if it is being pitched out. Soon people will come to YOU with great useful materials, and you can build or repair your own house "Dirt Cheap."

All the best in your efforts to recycle, reuse, and live lightly on the planet!

Charmaine R. Taylor, Founder
www.DirtCheapBuilder.com
See also: Building for free with "alternative" natural materials
by Charmaine Taylor
in Countryside magazine.
---
Charmaine Taylor Publications
Founder of www.DirtCheapBuilder.com.
Cinva Ram Compressed Earth Block Press Plans
by Charmaine Taylor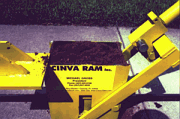 Charmaine Taylor's Cinva Ram Plan Set is a detailed set of plans for making your own compressed earth block (CEB) press ...aka the Cinva Ram. The photo above is a Cinva Ram manual press made from these plans by Mike Gross, President of Terra-Block Inc., Orlando, Florida.

This press was developed and engineered in third world countries for manual use. Welding of parts is recommended as part of assembly, and mechanical expertise is necessary to build these block presses. (Be sure to read the Windward Sustainable Community Blog Building the Rammed Earth Brick Machine from Charmaine Taylor's plan set.)

The Cinva Ram Plan Set contains 30+ printed pages, including 11 detailed pages of plans on heavy cardstock.The plans are sold "as is," with dimensions shown in millimeters, not inches. You will need a CAD or other program if you want to convert millimeters to inches. No lengthy assembly description is given. But there is enough obsevable data from others who have built these manual rams to guide you.

Also included in the package is the Adobe & Cinva Ram Resource Guide on CD with approximately 3,500+ pages of earth construction related information, plus FULL BOOKS on CEB block press use, brick making, resources, links, and PDF articles on all aspects of natural and alternative construction. This CD includes information and articles about making and building with adobes and earth blocks. Some materials are from the 1930s and 40s, including photos of a compressed earth block ram and its operation to make soil blocks. Information describes soil testing, mixing, additives, curing, plus adobe construction codes, and building with soil blocks.

Here is a sample of the documents included on the Adobe & Cinva Resource CD:
Compressed Earth Block (Mardini)
Compressed Earth Block (Hydraform)
Compressed Earth Block (Balram)
Earth Block Technology For The World
VITA-CINVA-Ram Block Press
Understanding Stabilized Earth Block Construction using the Cinva Ram
UNDERSTANDING ADOBE-VITA
This Brickmaking Machine Makes Nothing But Money
The compressed earth block-Basin 1991
Terrablock-CEBs
SUPPLEMENT 5-PRESSED EARTH BLOCKS
Stabilizers and Mortars for CEBs
Stabilized Earth Construction
SPORE-1996-Earth fights back
Soils for Rammed Earth, Caliche Block
Soil Preparation Equipment
AECT BLOCK PRESS
Aureka Earth Brick Presses
Compressed Earth Blocks-Wayne nelson
Compressed Earth Block (CEB) Machines
CEB Vol 2 BOOK.pdf -A COMPLETE BOOK
CEB Vol 1 BOOK.pdf -A COMPLETE BOOK
CEB vs. Adobe blocks
Building materials- earth fights back PDF
BASIN 1991-The compressed earth block PDF
Basics_of_CEB
Making Building Blocks withCinvaRam-VITA
PACKER PRESS-CEB
NM Code-earth-adobe PDF
Manual Minke PDF - 52 PAGE BOOKLET
The Cinva Ram Planset comes in a portfolio that includes the plans, CD, and related literature. Please order directly from Charmaine Taylor.
CD: Earth Building Resource Guide &
Booklet: Rammed Earth Walls for Buildings: Farmers' Bulletin
Rammed Earth Walls for Buildings: Farmers' Bulletin. This is the great 1926 edition with photos, drawings and complete low-tech construction information on rammed earth. The US Government produced this booklet as part of a series, to show farmers and poor rural folks how to build a house from earth (pise' de terre). Praises rammed earth over cob for ease of construction. The building information, tools and formworks description needed for manual wall building are ideal for anyone wanting to learn this method. Twenty-six pages, xerographic, with black and white photos of houses and tools, formworks, plus sketches throughout. Please order directly from Charmaine Taylor.

Rammed Earth Walls for Farm Buildings - 1933, Bulletin #277
This is a booklet, 67 pages, with Xerographic reproduction, black and white photos and illustrations, spiral/comb binding. It was out-of-print for seventy years!
This book extensively explores the soils and methods used for successful Rammed Earth construction. Covers many plaster and finishing tests, with recommendations for lime, asphalt, cement "cream" and linseed oil.
charts on aggregates percentage in soil for best compression, and other useful construction information from footings to roof. The South Dakota Agricultural Dept. built an experimental poultry house and recorded all experiments thoroughly to inform others on successful rammed earth building. The black and white photos are grainy due to original document age (and earth and dirt never photograph well in b&w in any case), but the text information is most valuable for anyone wanting to avoid problems during manual rammed earth building. 67 pages, booklet, xerographic, black and white photos and illustrations. Please order directly from Charmaine Taylor.

Modern Pise Building: House building with compressed or rammed earth
- A revelation for the Farmer and Settler
This reprint of the original 1923 booklet includes extensive coverage of rammed earth building methods from the 1920's. you are curious about earthen and adobe building this is a good, inexpensive resource to start with.
Karl & Inez Ellington traveled all over Europe and the USA promoting the rammed earth method. Karl was a true "back to the land" builder. He stipulates that each man or "settler" should take advantage of the soil beneath his feet and build a "cozy little home". He describes the foundation, selecting soil; mixing, formworks and a variety of lime washes and plasters.
Dozens of black and white photos of houses in Norway, Sweden, Denmark, France, New Mexico & English cob are revealed. The book covers walls with cross-section diagrams showing construction methods, roof design, and attachment. It provides recipes for finish coating walls - limewash and plasters. Black and white diagrams throughout.
You also get a real sense of life in the 1920s, a most charming booklet. Inez and Karl Ellington answered letters from all over the world about building with rammed earth, and enthusiastically promoted this method all their lives. BOOKLET. 105 pages, 8x11 size, comb binding, Xerographic reproduction. Please order directly from Charmaine Taylor.

Earth Brick Construction by Elbert Hubbell, 1943
This 1940's booklet is a treasure of American adobe and earthen building with many photos of vernacular architecture and native people building. Chapters cover soil characteristics, making simple bricks, testing, curing bricks, molds and forms, asphalt stabilization, mortars of mud, lime and cement, laying up bricks, structural design of walls, allowing for windows, doors, floors, roof construction showing latillas, poles and thatch type roofing materials by pima Indians, plasters with stabilizers of cement, lime and mud.
Nailing stucco walls, applying mesh reinforcement, chimneys and fireplaces. Even shows construction of an adobe outhouse. Extensive history and information on traditional Southwestern USA building , i.e. adobe and mud brick use.
Portland cement was heavily used during this time period and is advised for just about all building uses, but lime, also described in this booklet, can use used for a more natural binder and stabilizer. One nice touch are all the photos of women mixing mud, applying plasters, whitewashing walls and, in general, doing the building right alongside the men. They used colored limewashes, buttermilk paints, and sizing on the walls.
XEROGRAPHIC reproduction 8.5" x 11", spiral comb bound, softcover, black and white photos and illustrations. Originally published by the Education Division US Office of Indian Affairs. Please order directly from Charmaine Taylor.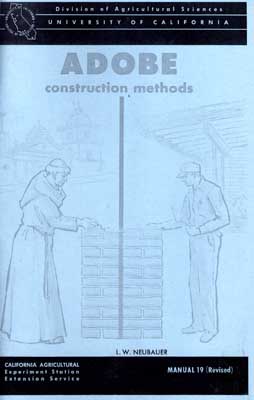 Adobe Construction Methods, by LW Neubauer
This is a very thorough primer for Adobe! It explains how to make and build with adobe bricks. Soil selection, stabilization and waterproofing with cement, emulsified asphalt, lime are detailed.
Describes how to build and mortar walls, place lintels, windows, doors, and build roofs. Shows diagrams of construction details from foundation to roof, with correct measurements given. Covers finishing, painting, limewashing, fireplaces and chimneys.
Even describes other tamped earth methods such as English Cob, rammed earth, poured adobe; with photos and diagrams of formworks used. Black and white photos throughout, this booklet was originally published by the UC California Agricultural Sciences Deptartment in 1964. It was out of Print for 40 years! 35 page booklet, 5"x7" size, Xerographic reproduction. Please order directly from Charmaine Taylor.

NUWAY Building Book + Rub-R-Slate Lessons on CD
Jack Bays was the creator of the NUWAY building and the Rub-R-Slate formula. Now his original 1970s book and his many unique formulations from the 1930s are contained on one CD with additional building information. The complete Rub-R-Slate Lesson plan is printed out for you, and provided in a folder with the encased CD, and other printed literature of interest.
Essentially, Jack discovered that using asphalt (hot mix), OR Asphalt Emulsion (AE) mixed with clay, shredded cardboard and/or sawdust, paper, and other dry materials like sand, cement, plus some other additives, gave a hard wearing but extremely foot comfortable substance good for floors and roofing. It can be poured, troweled, rolled, sprayed, tamped, stamped, and molded while still drying.
Alternative builder Ken Kern wrote about Rub-R-Slate in his book The Owner Built Home but details on making the product were scarce. And John Shuttleworth, founder of The Mother Earth News, knew Jack and worked with some of his formulas back in the 1970s. This collection of the original lessons are now available on the CD along with the 80 page book Jack wrote.
Jack even describes coating sheets of paper/cardboard with it to premake panels for laying as floor tiles or wall surface. It can also be used for a damp proof course.
The various names Jack gave to his recipes include: "Liquid Marble, MarbleWood, Insuldown, Insulrock, Lithocrete, Hornite, and Terralithic". Mr. Bays had a series of "lessons" numbered 1-12 with recipes and formulas for many uses of this product.
Rub-R-Slate can be used to resurface old concrete/cement floors and old wood floors, baseboards, and walls. Make roofing tiles and panels, countertops, and a base mastic and grout, plaster, and coating surfaces is possible with these formulas.
(Asphalt Emulsion- AE: is simply asphalt, bentonite clay and water in a suspension. It hardens by evaporation of the water, no VOCs or chemicals are in modern AE formulas. It has a "road tar" smell when the can is opened, but it dissipates immediately in the mix.) Please order directly from Charmaine Taylor.

PARACRETE- EPS-Cement Building by S. Tapasananda
Introduction from Tapas: "It is very sad to see homes burning in California, and elsewhere, every dry summer, and this prompts me to publish a method for building which is extremely fire resistant for residential structures. The essential ingredient in this structure is Paracrete which is a name I have given to a composite of Portland cement, waste polystyrene dust, polypropylene fiber, expanded perlite and various optional admixtures such as high range water reducers and polymers.

Creating roof panels, floors and tilt-up walls of Paracrete, a strong fire resitant, highly insulated material, low cost to build from waste styrofoam scrap (beads and dust which can be obtained free). The formulas and recipes are given in the CD book, with photos of each process, and a "how to" create walls and panels with this mixture.
Paracrete can be poured into removable molds, more easily than papercrete, for slabs or panels or permanently poured into permanent frames made of off the shelf galvanized steel studs.
I have built two small buildings of Paracrete. I live in one of them and use the other as a guest cottage. My cottage is built entirely of Paracrete except for headers, windows and doors. The walls are double membrane units made by pouring Paracrete into rectangular frames of 1.75" steel studs. The ceiling and roof deck is made of two inch thick by 24" x 6' Paracrete panels poured into removable forms, and reinforced with heavy polypropylene mesh on both top and bottom surfaces [a 'two way slab'] .
The floor is a five inch thick Paracrete slab reinforced with polypropylene carpet backing [known in the carpet trade as "action back"]
One cottage floor is slab on grade and the other is poured over 'action back' mesh stretched tightly over a treated 4x6 frame. Both floor systems have skid-sled endings so that the cottages can be pulled around with a tractor or four wheel drive truck.
I love my little home for several reasons, aside from its fireproof qualities. The building, with walls, floor, structural beams and roof-ceiling components of Paracrete, is warm. Because Paracrete, having the density of soft wood, has insulating properties similar to wood. And, unlike concrete, it is warm to the touch. The Paracrete material is cool in summer for the same reason, as it insulates against heat gain.
However, unlike soft woods, OSB, plywood, and sheet rock, pests such as mice, racoons, rats, and other rodents do not like to chew their way into it. So it is pest resistant. It also has sufficient mass to slow thermal fluxing, yet, because its density is about one third that of concrete and due to thousands of mini air pockets, it has a decent insulation R value.
About the Author-Inventor: Tapas (as he likes to be called) suffered a home burned to the ground during a raging fire...he determined to find a way to build without fear of fire again.
His method using both waste materials, salvaged materials and low cost components. Beside walls, roofs and floors made of paracrete..many other useful items can be constructed. Lightweight outdoor furniture, a firepit to contain campfires, retaining walls, garden floors, walk ways, step stones and many other items where lighter weight is needed. Paracrete can be applied over existing surfaces, and have tiles, slate or other objects embedded for decorative use.
There are pricey commercial products sold which are premixed and contain similar components, but Tapas's method shows how to create your own at very low cost. Even large garden art, birdbaths, pond shapes, water features, faux rocks and stones, or sculptures can be created by using wire and poly mesh for the framework.
This very lightweight formula is a boon to the DIY builder and artist! Cement use is small, proportionate to other components, and provides the strength of the finished project. Creative use of lime and clay plasters over top can really open up artistic expression for experiments. Please order directly from Charmaine Taylor.

Natural Materials Resource Guide CD:
All about Light straw clay, wood chip and sawdust clay,
plus Wood, Poles, Logs, Cordwood, and Timberframing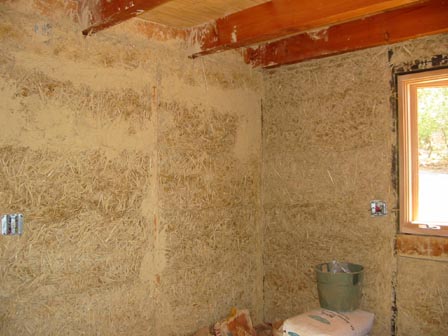 Light straw clay and the German method of Wood Chip Clay are not well know yet in the US. But as more people decide to green their homes these two methods can be used to infill standard framed homes. [ I personally am using a sawdust-lime-clay mix - of my own formulation to infill all the walls in my work studio and sheds.] Many photos and homes using these methods are shown so you see full construction techniques.
The CD has FULL BOOKS on wood building, from the Alaska Home manual to others on frame building with logs and poles. Plus there is extensive information on old world methods- Known as Fachework, and similar to Wattle and Daub, the articles teach how to use standard framing or poles, to add lathe strips (or bamboo or sticks) and clay/woodchip/stone (called nogging) infill to make an insulated, burn resistant wall, that can be easily clay plastered, or coverd with drywall. By using Larsen trusses and other wide wall framing you can achieve R25 or more with natural materials.
This CD has more than 3,000 pages of documents, books, articles and reports, plus numerous .jpg and .gif images. The package includes the USDA booklet #1660 "How to Build with Wood- Poles-Logs. Please order directly from Charmaine Taylor.

CD: All About Lime & Clay Resource CD & Booklet
This CD is a compilation of hundreds of resources about using lime in all its aspects-Plasters, mortars, washes, lime stabilized floors, soils, plus garden and farm use. There are thousands of pages of information from building with lime as a mortar, to tilling to dry up and stabilize clay soils to prevent muddy paths, to the finest wall plasters made with marble dust and mica (including Moroccan Tadelakt, Italian Sgrafitto and oil/soap enhanced plasters, and much more hard to find data.)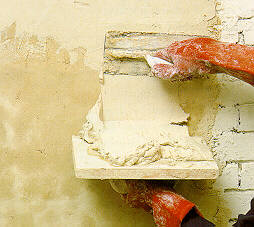 It includes complete reports, booklets, and lengthy lime use articles. This is a full library of lime information not found anywhere else in the world. It has also been called a "waterfall" of resources by natural builders.
Information on using lime creatively and safely is scattered all over the internet, and lime is misunderstood and the best knowledge over the centuries has been lost, and ignored until the last few decades. But lime is the perfect plaster for natural walls of clay, earth, or straw, and should be used wherever possible.
Unusual and "mysterious" plasters such as Moroccan Tadelakt which adds black soap, and Quadad lime, and Italian waterproof plasters are explained.
The 14 page companion booklet "Using Lime & Clay" addresses using lime and clay for many areas of building from adding lime cinva ram soils, to wall plasters, and as soil amendments.
This CD also has anectotal recipes, formulas, write-ups from green builders on how they have plastered their strawbale and earthen homes, plus links to products and tools. There is a real resurgence to using natural lime on natural walls, and lime plasters can reform ordinary drywall walls too. Please order directly from Charmaine Taylor.

All About Lime: A Basic Information Guide for Natural Building by Charmaine R. Taylor

Many questions are answered in this booklet on lime and gypsum. Explained are the differences between Type S and N, when to use each, how to make a natural cement, dry up mud on the worksite, and stabilize soil for earthen bricks (for Cinva Ram block presses and others). Lime is an amazing, very versatile building material which can be used on the ground, foundation, walls; for plasters, mortars, cements, garden and land tilth, and in the waste/septic systems.
Chapters on plaster and mortar give recipes and current recommendations on application and use. An interview with professional straw bale plasterers is included.
A complete history details how lime was used for building, and how it can be used again for an earth friendly alterative to Portland cement. Lists lime resources, bibliography. Illustrated, photographs, Technical articles on lime usage, 52 pages, booklet. Please order directly from Charmaine Taylor.
(To see a great tool for spraying lime plasters onto walls and surfaces please visit the Tirolessa Sprayer site.

DirtCheapBuilder Guide on CD-ROM
The original DirtCheapBuilder Guide is BACK! It started in 1998 with a 3-ring binder notebook that grew past 100 pages, grew past 4 floppy disks (remember them?) to more than 3,000+ pages of information in CD format for Macs or PCs...all for the SAME $7.00. Sometimes dirt cheap is darn good!
You know how it goes... you find a great site then lose the URL and cannot find the page again! Looking for info on making earth bricks, using special fibers, or that house with the cob tree sculpted into the wall, the living roof design, how to use greywater? This CD has it ALL!
Plus stuff you never heard of! Use this CD as a desktop LIBRARY. You can spend hours just reading and visiting the links and resources given. Now you can get organized. Make a folder on your desktop, copy this CD to your folder, and then add new sites you find and keep a complete database of useful links right where you need them.
TOPICS INCLUDE: Adobe, Agstone, Brick, Cement/Concrete, Clay, Clay stoves, Cob, Cordwood, Domes, Earth sheltered, Earth ships, Ferrocement, Foundations, Hybrid Adobe, Hypertufa, Light Straw Clay/ Sawdust Clay/Woodchip-Clay, Lime use, Log, Paper adobe/Papercrete, Plasters, Pole frame, Pozzolans/Rice Hull ash/RHA/Fly ash, Pumicecrete, Rammed Earth, Soil, Stone, Strawbale, Timber Frame, TufaStone, Wood, Yurts.
Also included is a folder with Charmaine Taylor's projects with Dewey the mixer, and her 'green' studio renovation. Please order directly from Charmaine Taylor.

CD- ROCKET STOVES, OVENS & COOKSTOVES & Woodstove Booklet

This special information CD has many PDF files on all aspects of making stoves of clay, earth, tin, brick, RICE HULLS, and other materials. Information on: Chula, Lorena, Masonry, Brick, Fireplace, Finnish, Russian, combo cob/rocket, Katchelofen, drum and steel drum, refractory brick, and several more. The companion BOOKLET that comes with this CD is Design Principles for Wood Burning Cookstoves, 40 pages, and is also on the CD too.
I have also added the great, out of print 155 page book Bread Ovens of Quebec in PDF format on the CD. This book teaches how to build an outdoor earthen oven similar to the clay Hornos built in the southwestern US. You can read on screen, or print out for your convenience. Please order directly from Charmaine Taylor.

Build A Metal Rocket Stove Cooker
This booklet shows how to make a portable, emergency cook stove - A hot, fast burning mini stove for boiling water, and cooking food. Made from inexpensive metal cans, and needs only scrap paper, twigs, small wood pieces as fuel. (Folks, I have made these with coffee cans and boy do they work!)

If you can punch a hole in a can, and follow the simple directions you can boil water, fry eggs and burgers, saute, steam, and cook just about anything. I have even made a Pad Thai rice noodle dinner on it.) This is not the Boy Scout can cooker, this is a better/ hotter cooking stove using just scrap paper and twigs.
Shows four different metal can designs, and a clay stove design which needs no tools to construct, and uses local clay and sand. Lots of photos and clear directions. You'll be amazed at how well these little stoves work.
You will need a hammer and nail to make a pilot hole, then tin snips, or metal cutters that curve right, or left to cut the opening for the throat. You can do this with straight cutters, but it leaves a rougher cut, and needs to be smoothed a bit to fit in the chimney throat. Otherwise a plain metal coffee can, or similar can will work. Bigger cans are OK too. Barbara Kerr's (the cardboard solar box cooker inventor) rocket stove is an olive oil 5 gallon size tin can, square, with a bigger throat, and a larger surface cooktop area.
Also in the booklet is my own design using two cardboard boxes, sand, and pouring a wet fibercrete-type mix in between to form the walls, and also be the 'insulation' for a cooker. This version is heavier, not as easily portable, (you can included a carry strap in the design if you make one, or just tote it in a plastic sack or large canvas bag). This larger version is more sturdy, and can be used for cooking outside your home, on your back deck or yard.
You can place these cookers on a picnic table, or glass patio table, but place a cookie baking sheet filled with sand under the little rocket stove to prevent heat to the table top. Please order directly from Charmaine Taylor.

Solar Homesteading Resource Guide CD & Booklet
The CD includes hundreds of resources, links and articles on solar living. So homeowners, and apartment dwellers who aren't building a house can also have a solar box cooker out on the patio or deck or fitted to a South facing window. It's an easy way to begin using free energy. Also find full books and booklets on gardening, food storage (cold cellaring) passive solar greenhouses that can be built and retrofiited to any home, plus links to products you can use to take advantage of the sun.

Package also includes the booklet BUILD A SOLAR WALL OVEN by Barbara Kerr. This little booklet has been availabe for several years, and is one of the easiest building projects for DIY home builders who need a way to cook and heat water on the job site.
Barbara Kerr didn't begin solar cooking until she was 50, and now at 80+ is an expert and inventor for solar methods. She patented her unique solar wall oven design, and continues to teach solar and low-fuel methods (Rocket stove cooking ala' Dr. Larry Winiarski's design) to this day in Snowflake AZ. This small booklet is a step by step on how to build and use a permanent (plywood or wood) solar box cooker that can be mounted through a wall in a kitchen, barn, shed, even bathroom or hallway to make hot water, sterilize baby clothing, and cleaning cloths (dairy and animal) warm chicks, seedlings, and of course to COOK.
Prepare everything from cassaroles, desserts, meat, fish, and fowl, to sanitizing water for safe drinking (and heating it for coffee and tea). Barbara built her solar oven through her kitchen wall which allows effortless solar cooking, no burning, and no fuel needed. These solar box ovens can be pre made and used on site while building a house at a remote location, and used to cook meals, warm foods, and heat water for washing up for workers, then installed into the kitchen.
Any south facing wall- for the northern hemisphere :) --can be utilized- even in travel trailers and mobile homes. Or cook ovens can be left outside mounted on a rotating table to track the sun for optimum efficiency. 5"x7" booklet teaches how to make and use. Published 1999. Please order directly from Charmaine Taylor.

See also: Living Homes: Stone Masonry, Log, and Strawbale Construction.

Return to DirtCheapBuilder.com Home
Return to the Sustainable Living Page
Return to Thomas J. Elpel's Web World Portal