Articles and Resources
Inspirations to Build Your Own Home
Thomas J. Elpel's House-Building Projects:
-Building a House on Limited Means
-Building a Passive Solar Stone and Log Home
-We've Gone Solar!
-Building a Slipform Stone Workshop
-Building a Passive Solar Stone House - Part I
-Stone House: Part II | Part III | Part IV | Part V
-Masonry Fireplace DVD
-Slipform Stone Masonry DVD
-Slipform Stone Masonry Class Information
-Living Homes: Stone Masonry, Log, and Strawbale
-Building a Little Castle / Guest House
-Our Dry Cold Permaculture Homestead
-Building a Modernized Earthlodge
-Little Stucco House

More Stone Masonry Construction Articles and Resources
-Stone Masonry: A Brief Overview
-Helen and Scott Nearing, Slipforming Pioneers
-A reader builds a Slipform Stone Mansion
-A reader builds a Stone and Log House in France
-A reader builds a Stone House at the Center of the Universe
-A reader builds a Slipform Stone House on the Prairie
-A reader builds a house of Stone and Straw
-A reader builds a Wilderness Cabin of Stone
NEW! -A reader builds a Recycled Concrete Barn
-Tilt-up Stone Masonry
-Masonry Stove Overview and Books
More Alternative Building Articles
-Log Home Butt-and-Pass Method
-Constructing an Earthship Tiny Home
-How to Make an Earth Oven
-Notes about Making an Earthen Floor
-Notes about Hardening an Earthen Floor
-Kitchencrete: Experimenting in the Kitchen
-Our Tire Bale Earthship: Building a Tire Bale Home
-Salvaged House Construction: Building with Sweat Equity
Question & Answer Pages
-Breaking Free and Living the Dream
-Questions about Buying Land
-Questions about Low-Cost Construction
-Thermal Mass Questions
-Footing and Foundation Questions
-Concerns about working with Fly Ash
-Slipform Stone Masonry Questions
-Tilt-Up Stone Masonry Questions
-Fireplace & Chimney Questions
-Log Home Construction Questions
-Strawbale Construction Questions
-Home Heating, Insulation & Energy Efficiency Questions
-Roofing Options Questions
-Renovating Old Homes


See also: Living Homes: Stone Masonry, Log, and Strawbale Construction.
---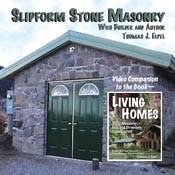 Tom,

We just wanted to thank you for the time you have spent sharing your research and knowledge with others. We recently received our copies of Living Homes and the Slipform Stone Masonry Video and were so thrilled to learn about your work. Your book is the most complete and detailed work we have found on the subject of alternative building (and we've read an awful lot of them!). It is absolutely worth the investment!


When we stumbled upon your website we knew we had found a gold mine. Your articles immediately inspired us. We decided once and for all that we were tired of the rat race and ready to make the drastic change of creating our own sustainable homestead in a rural area. Thank you so much for the time and effort you have put forth to help others achieve their dreams of sustainable living. I don't know if we would have found the courage to take the first steps if we had not been able to hear your story, and learn from your experiences. It will be quite an adventure for our family, but we are looking forward to every minute of it. There won't be a person that knows us (or meets us!) who won't hear about how your book has inspired us. We hope it will be contagious.
Thank you again,
Scott & Marie Greene & Boys