Scoring a concrete slab to split it for use as "stone."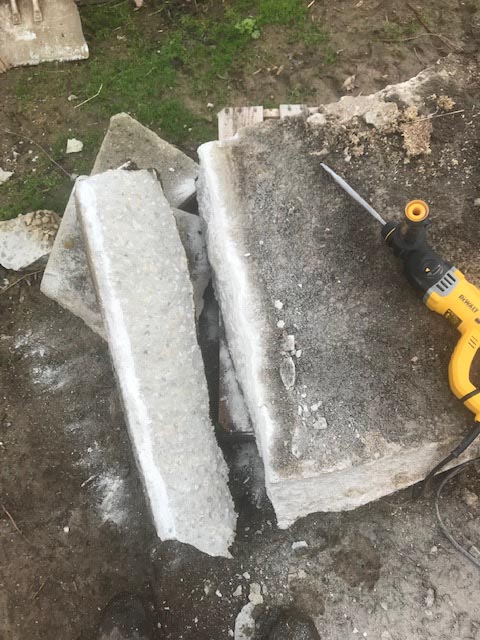 A long "stone" was jack-hammered from the concrete slab.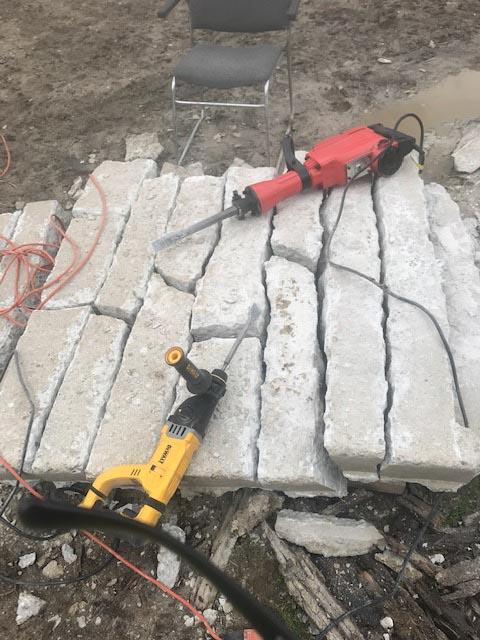 A concrete slab split into many "stones."
Slipforms were used to guide the stonework with rebar added for reinforcement.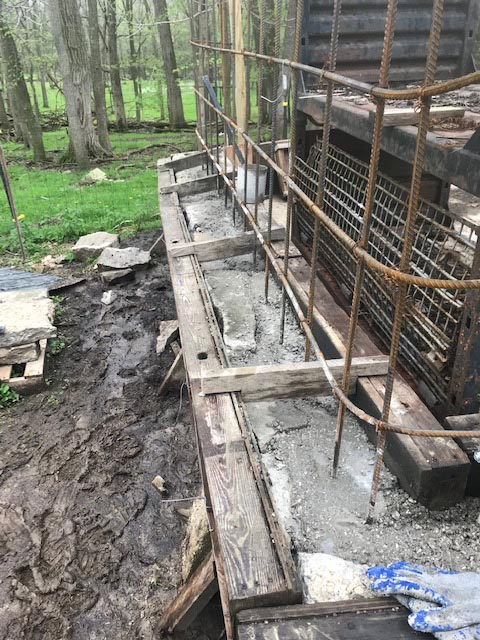 The first level of slipforms were filled with "stone" and concrete.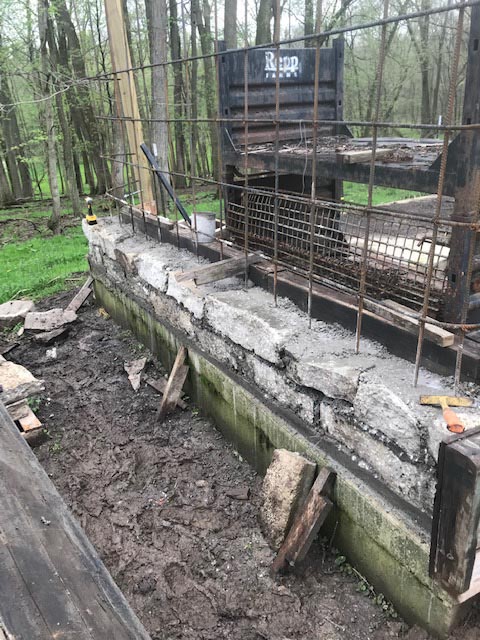 The base of the wall after removing the slipforms.
Bolts will be cemented in place to connect the door frames to the stone wall.
Slipforms were moved up the wall as the stonework progressed.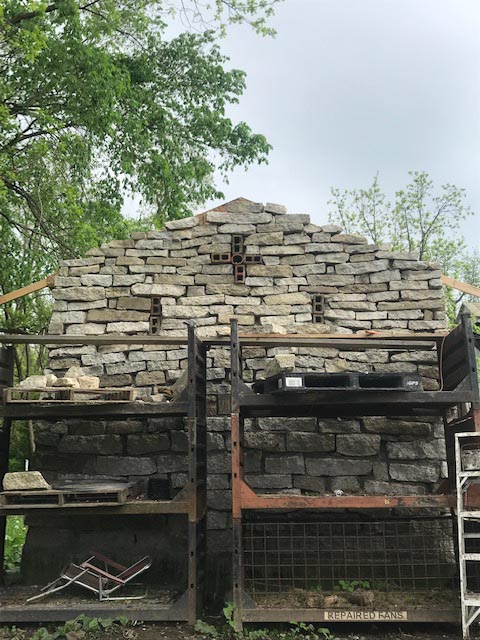 Recycled concrete slab stonework was finished to the peak.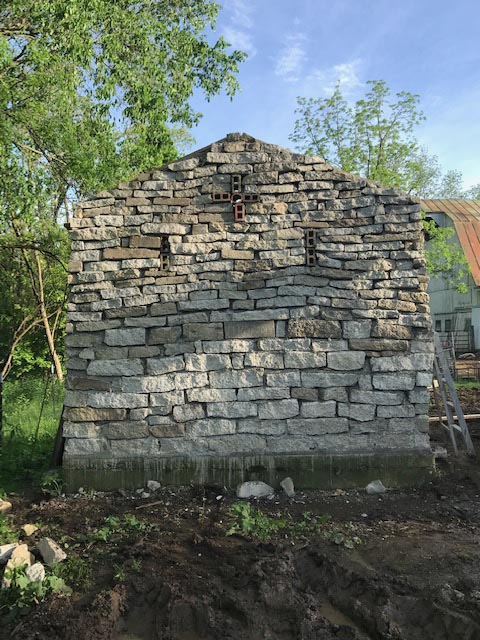 The recycled concrete stone wall looks like real stone!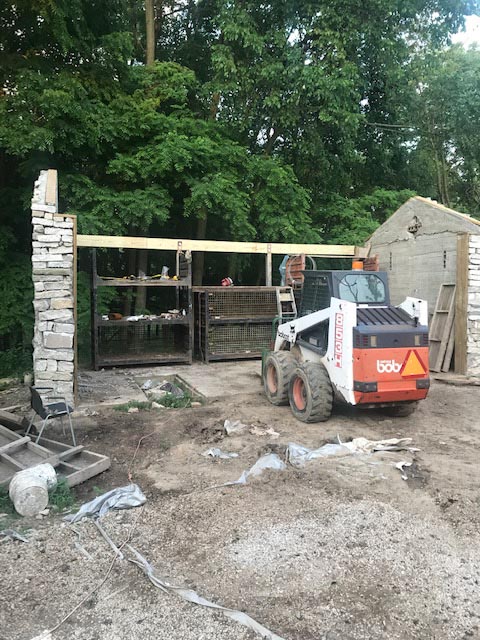 The barn features stone walls on both ends with connecting beams between them.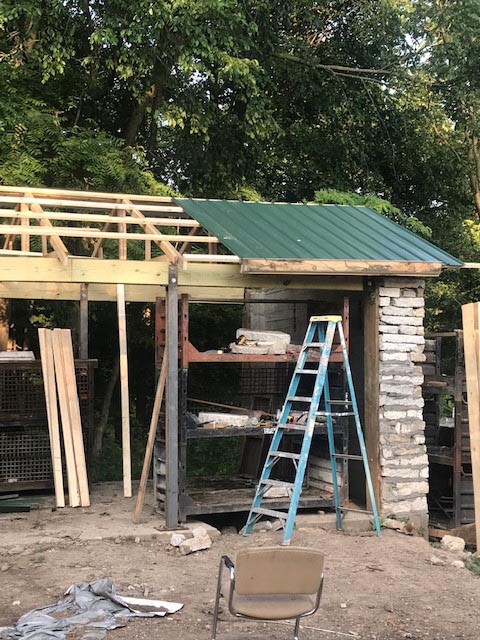 Constructing the roof.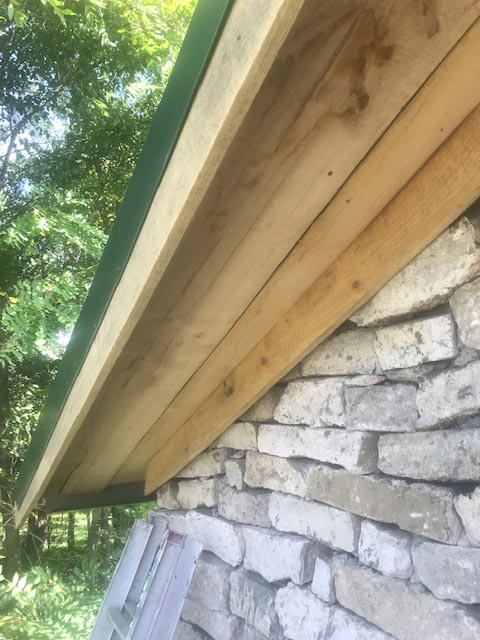 Adding trim along the stonework.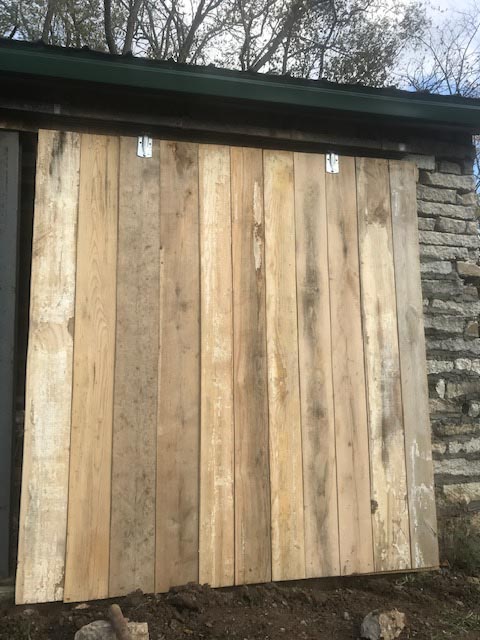 The barn features sliding doors on both sides of the building.
There are three sliding doors on each side of the barn.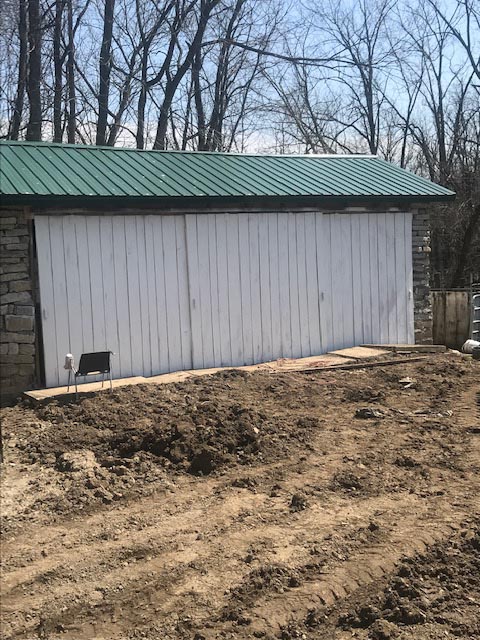 The doors were first painted white.
Arches were painted on to match the color of the roof.
Painting the eaves of the barn.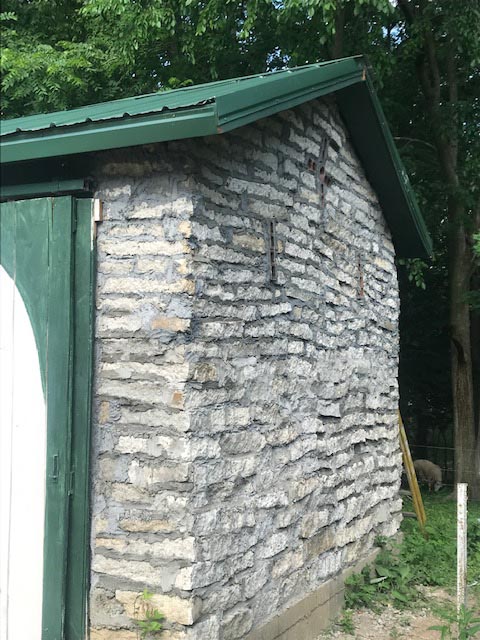 The grouted "stonework" looks similar to natural slabs of limestone.
Close-up view of the grouted stonework with recycled slabs of concrete as "stones."
Building a Stone Barn
using Recycled Concrete Slabs as Stone
By Mark Repp and Thomas J. Elpel
Tom,

I wanted to say how I admire your work. I bought your Living Homes book and your video on slipform masonry. I built my first stone building in 2005 out of natural stone. I use it to house my wood boiler and it has served me well, and is beautiful.

I salvaged most of my stone from old barn foundations and neighbor's fenceline rock piles. In my part of Ohio, there was a lot of sandstone which is ideal for slipforming. Over time, most of it disappeared.

I am now thinking about building a larger barn (14'x28'), but my fear is that I will not have enough stone. The one thing that is very plentiful is old concrete--lots of slabs that I can obtain for free and are readily available. I have tried to research use of recycled concrete as stone, but there is little information out there on it (other than for retaining walls). Have you ever tried using it? Are you aware of any drawbacks? I thought I would seal it after I was done pointing it, but the slabs will look very much like our local limestone when laid up.

Any thoughts? Any wisdom you can give me would be greatly appreciated...

Mark


---
Mark,

Thanks for reaching out, and thanks for the compliment. I'd love to see pictures of your past stonework! Are you imagining placing the concrete slabs horizontal like bricks or vertical like stone facing? Either can work.

Would it be possible to use concrete for the first two to four feet, then switch to limestone? The stonework could be a completely different style, and it should look good if there is a sharp transition between on layer and the next. Using concrete close to the ground would allow it to disappear somewhat in the grass and bushes, so that the emphasis would be more at the stonework at eye level.

That's all I've got. Let me know how it goes!

Tom
---
Tom,

I'm sending a pic of my first slipform building, my boiler shed. Our farm is over 150 years old, so I try to build the buildings "fit in". This building was intended to look like an early spring house and is about 2' below grade. That helped when we trenched in the hot water lines into the house. People visiting the farm often comment on how the boiler shed is their favorite building--it blows them away when I tell them that I built it!!

The barn I plan on building is going on an old pad (6"reinforced concrete-very stout) that I previously built for two corn cribs . I plan on laying up the concrete horizontally--like bricks--so that it will look like laid up limestone. Rebar is every 12" and is in. I bought a dewalt rotary hammer and cracked a few of the slabs I hauled in--it does a great job. I plan on inserting some red clay tile in the work to look like ventilation holes from historic stone barns out east. It should contrast nicely with the light slabs.

I'm planning on laying up the concrete by the end of June. I want to start another small building (look like a summer kitchen) in July- I think I have more than enough stone for that. I am going to try using your building methods using SIP's--my first time for that. If you want, I will send pics of the projects.

I am here in Tiffin, Ohio, and the weather is starting to break. Lambing is done, and I'm getting anxious to start pouring!! Thank you for your insight--I truly admire your quest for thrift, efficiency and beauty--there is nothing as beautiful as stone. Thanks for your prompt reply.

Mark


---
Mark,

Thanks for sharing the picture. That's really terrific! It does look like it's been there for 150 years. Nice job!

The concrete or limestone will work great with the SIPs... flat enough that you probably won't need slipforms at all. Just use the SIPs for backing so you have something to measure from, then hand-lay the limestone and concrete up the outside, leaving room behind them for concrete and rebar.

We've got five lambs here so far, one or two more ewes to go. Time to go check on them now!

Tom


---
Tom,

I didn't know you were a Shepard too!?!?! I have about 40 ewes and we raise katahdin/dorper/Finn lambs for the Muslim market. Most of our customers know how to butcher, so I upgraded an old carriage house to allow them to do that on the farm. It has been a fun experience, and I have learned a lot about Arabic culture. Lambs are now our biggest source of farm income over soybeans, corn, and hay.

I am very excited about starting my new barn. I promise to send pics as the work progresses, and you are free to share them with anyone you wish. You are the prophet of slipforming, and anything I can do to help educate the world about it is my pleasure.

I have always admired stone construction. My wife and I took a trip to Pennsylvania and Maryland last fall. We were impressed with so much of the old stonework there, and wanted to pattern some of our new buildings on that historic stone work. I think you will appreciate the results. Take care and talk to you soon...

Mark


---
Mark,

I started with 6 ewes and 2 rams last July, a random mix of very wild Icelandic sheep crossed with something else... whatever landed in the trailer, basically. We've tamed them with oats over the past year so that they follow reliably and I've even been able to herd them from behind without grain once, so that's promising. I'm in the business mostly for pasture management, weed control, and fire prevention. Six lambs now. Potentially one more ewe to go, but she's not so big, so maybe not. Pictures of your stonework would be great. Please save up an album, and send them to me at the end of the season.


---
Tom

Here are some pics of the slabs I started out with. I scored them with a rotary hammer and cracked them into usable sizes. I am very excited about it--I may try laying them up without the outside form like you had suggested. My only concern keeping the joints wide enough (I plan on pointing them with mortar). I will let you know how it goes...thank you for your encouragement and input. I love building with stone (or concrete)--i am so excited about this project. I promise to keep you updated....

Mark


---
Tom,

Got the north wall done- started on the south wall. I decided against dry stacking on the south wall--the outside forms give me something to stack the concrete blocks against, and makes it more uniform. I'm hoping to be at 7' by this weekend--I'm going to stop for a while and get my crops in. The rain has slowed down planting and hay making... I will keep you updated. My plan is to have the south wall done by Father's Day, then start putting up the header plate and set the trusses by July 4th.

Mark


---
Mark,

That looks fantastic! Thanks for sharing. We leave Saturday. Floodwaters haven't really kicked in on the Upper Missouri yet, so the river is calm here now. We'll be ahead of the high water here and behind it everywhere else, so we should be good.

Tom


---
Thank you Tom- praise coming from you means a lot. Be careful out on the river.... Mark

Tom


---
Tom,

I wanted to send some follow up pics of my stone (recycled concrete) shed. Just finished tuck pointing and painting last week.

Mark


---
Mark,

Congrats on your project! It really turned out great. Can you send additional photos of the tuck pointing?

Tom


---
Tom,

I must admit I am very pleased with the results. Last fall, I sealed it up to prevent water absorption. I plan on hitting it again now that it is tuck pointed. It is rustic, but it keeps in the character of our farm.

Mark
---

Check out Living Homes: Stone Masonry, Log, and Strawbale Construction.